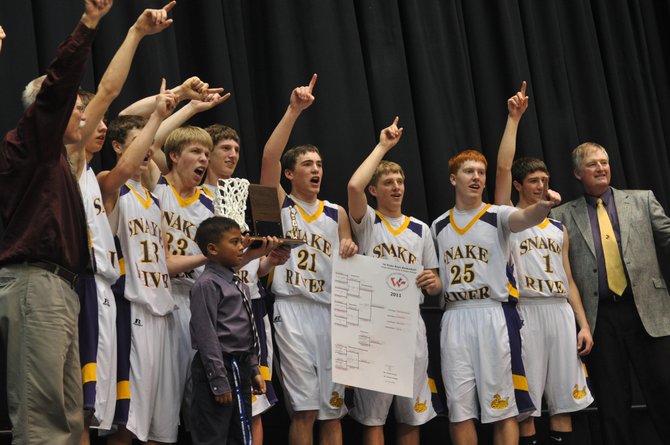 Title Town: LSRV boys basketball team brings another championship to Baggs, Wyo.
Updated March 9, 2011 at midnight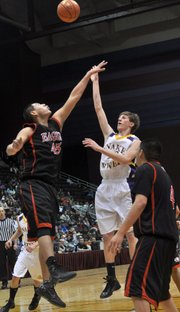 How do you inspire an athlete who's lost just once in half a calendar year?
An athlete for whom winning is not an aim but a habit of being? How do you inspire eight of them, and for one last time?
Paul Prestrud, the Little Snake River Valley School (Wyo.) boys varsity basketball coach, found an answer to those questions minutes before Saturday's 1A state championship basketball game was set to begin, and it came in the form of an American Thoroughbred.
"I showed a video clip in the locker room of Secretariat," Prestrud said, referring to the legendary horse that in 1973 set records in the Kentucky Derby and Belmont Stakes. "I showed them the Belmont run where he just runs away and I said, 'Gentlemen, that's what we got to do,' and they just looked me in the eye."
The Rattlers were transfixed, and Prestrud left the room knowing his squad was ready.
LSRV, the school that brought home the six-man 1A football title last fall, took advantage of Saturday's final game to exact revenge against the St. Stephens Eagles — the only team to defeat the Rattlers since August — by winning, 79-61, inside the Casper Events Center.
"My kids weren't nervous at all," Prestrud said. "They were ready."
The Rattlers trailed the Eagles early Saturday, 7-1, sending St. Stephens fans to their feet and prompting Prestrud to call a timeout.
"The timeout came and it was like a light switch went on," Prestrud said. "Then everything started to click."
Daniel Wille quickly landed two 3-pointers, and soon thereafter Conner Lee stole the basketball that resulted in LSRV's first lead of the game.
As both squads raced down the court, Wille sank a flurry of shots from the 3-point line to send his team into the second quarter with a 23-15 lead.
"Daniel Wille hits threes, spreads the floor, and then Sean Rietveld can go to work inside," Prestrud said, explaining the mechanics of a Rattler offense that helped propel the team to a 27-1 overall record.
Wille went on to sink four 3-pointers Saturday and scored 26 points.
Rietveld added 15 points and 12 rebounds, while Miles Englehart had 16 points and Lee 11. Rex Stanley led LSRV's defense, bringing down 11 rebounds.
Staring down the final stretch of the first half and desperate to score, St. Stephens landed one 3-pointer of its own at the buzzer but still trailed, 45-34.
The Rattlers steadily added to their lead throughout the second half and entered the final quarter of the season ahead, 61-43.
With little more than a minute remaining, LSRV assistant coach Scott Herold smiled toward Prestrud, saying, "We did our homework, coach."
The championship was Prestrud's first as head coach of the Rattlers.
After winning the state football title in November, the boys from Baggs brought home their second consecutive state championship in as many sports.
In a swarm of tears and jubilant fans, the Rattlers' Lee spoke about the victory while gazing up from the arena floor.
"It feels awesome," he said after the awards ceremony. "Regionals lit a fire under our butts and we were ready to play."
A breathless Lee hardly waited a beat before glancing ahead in the sports calendar. Framing his vision was the image of a horse, making the run of its life.
"We're just ready to get that triple-crown at state track," he said. "It's time to move on and take another sport."
Click here to have the print version of the Craig Daily Press delivered to your home.