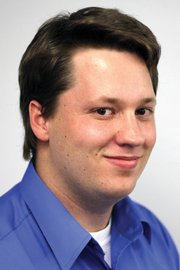 Business News Tips
The Daily Press wants to know what's happening at your business or place of
work, including promotions, new employees, transfers, awards, special deals, new products and more.
Send all your business news tips to Scott Schlaufman by e-mail at:
<
p>sschlaufman@cra...
>
When Steve Deyo was 19, he got a job working for Jerry Thompson at Craig Ford, where he spent the next 26 years of his career.
Last week, Deyo, now 51, returned to the dealership. This time, however, he has a bit more invested. His new roles are both general manager and minority owner.
"It was almost like I'd never left," he said. "There's a great bunch of people working here and I know all of them. I know the business, so it's not awkward coming back into it."
Deyo is a Craig native and brings experience in both service and sales.
Most recently, he worked in sales at Tri-State Equipment.
Deyo acknowledged that while the auto industry nationwide hasn't been great, he said the agricultural economy has been good lately, and he's optimistic about recent oil and gas exploration talks.
"I think it's going to boom here in a little bit," he said. "I think it's going to cut loose. I think it's a perfect time to get into it."
Craig Ford is located at 801 W. Victory Way, or can be reached by calling 824-9441.
Cari and Rob add new affiliate
In less than a year on the air, "The Cari and Rob Show" has continued to grow.
The show, which uses Craig's KRAI as its flagship station, recently added its ninth affiliate, News/Talk 740-AM KVFC in Cortez.
The station will carry the show's weekend edition. Cari Hermacinski and Rob Douglas are the hosts.
Locally, the duo can be heard from 10 a.m. to noon on 55 Country (KRAI 550 AM) Monday through Friday.
New businesses open in Craig
From auto detailing to clothing, two new businesses recently opened in Craig.
Faze II, a thrift store, opened March 1 at 80 E. Fourth St., and is owned by the mother-daughter tandem of Leslie Rogers and Keli Walls.
The owners try to keep convenient hours for consumers, so the store is open seven days a week.
The store is open from 10 a.m. to 4 p.m. Monday through Saturday, and noon to 4 p.m. Sunday. Contact Faze II at 629-1529.
Also recently opened is Complete Details, a vehicle detailing shop owned by Tona Ogden.
The shop's first day of business is today, but the grand opening was celebrated over the weekend.
The store focuses on detailing work on vehicles ranging from trucks to SUVs, and even boats.
Complete Details is open from 9 a.m. to 5 p.m. Monday through Friday and will be open Saturdays by appointment.
The store is located at 1121 E. Victory Way and can be reached at 701-3009.
Click here to have the print version of the Craig Daily Press delivered to your home.