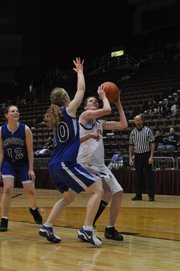 She didn't know how her squad would adjust to the glare of the spotlight or the sheen of the new court inside the Casper Events Center, but it didn't take long for Jodi Stanley to find out.
Wyoming's 1A state basketball tournament's center stage suits the Little Snake River Valley School girls just fine.
The Rattlers, No. 1 in the West, defeated the Chugwater Buffaloes, 62-24, in the first round of the championships.
"That's a big win," Stanley said after Thursday's game. "I think it's hard to play in here the first time."
Stanley insisted her team did, in fact, take time to absorb its surroundings before refocusing on Chugwater and the task at hand.
"We shot like 26 percent from the field in the first half and 41 (percent) in the second half," Stanley said of the Rattlers' accuracy. "So, it got better, we got our legs underneath us a little bit."
But the score belied a different story. LSRV sank shots early and often to compile a 16-4 lead by the second quarter.
The Rattlers kept the Buffaloes from double-digit territory until early in the third quarter, by which point the No. 4 team from the East was down 20 points. Chugwater would watch LSRV's lead balloon to 61-20 in the fourth quarter.
Stanley used the cushion to allow her younger players time on the state tournament floor.
"I think we wanted to get our young kids in as much as we could and let them play on this stage, it might be their last opportunity," Stanley said. "I thought they came in and did well. We got some good shots and moved the ball pretty well."
Rattler sophomore Taylor Kaisler agreed.
"We just wanted to get as many players as we could off the bench … to experience the different atmosphere that we're in," Kaisler said. "We had a little trouble with our layups, but other than that I think we did well."
Like the boys' squad, Stanley and the Rattlers face a familiar opponent today in the tournament's semifinals.
Cokeville, the West No. 3, upset East No. 2 Guernsey-Sunrise to set up a rematch with LSRV. It will be the third time the two squads have played this season.
"I like our chances," Stanley said. "I think it's hard to beat a good team three times, but I think that we're a better team than Cokeville. I know that they're going to come ready to play. The coach does a great job and I'll be anxious to see what his plan is."
The Cokeville Panthers tip off against the Rattlers at 6 p.m. tonight inside Casper College.
Click here to have the print version of the Craig Daily Press delivered to your home.