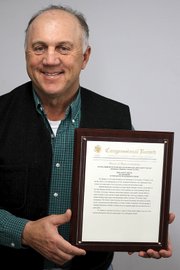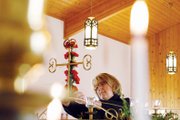 Pull box:
Below is the tribute to Marianna Raftopoulos read into the Congressional Record by Congressman Scott Tipton:
"Mr. Speaker, it is my great privilege as the representative of Colorado's Third District to rise and pay tribute to the inspirational life of Mrs. Marianna Raftopoulos.
"Mrs. Raftopoulos was a woman with a deep sense of civic conviction, a loving wife and mother of three.
"Marianna Raftopoulos was raised on a sheep ranch in Western Colorado, and the spirit of the West remained with her for the duration of her exemplary life. After graduating from the University of Colorado, Marianna pursued many passions. Most notably were her efforts to improve Moffat County, and the Colorado Republican Party.
"She was a champion of many causes, including chairwoman of the (Moffat County) Republican Central Committee, the Moffat Tunnel Commission, the (Craig/Moffat) Economic Development Partnership, and served as a Moffat County Commissioner and chairwoman of the Colorado Wildlife Commission.
"With the passing of Marianna Raftopoulos, Western Colorado has lost an inspiring leader, and our nation has lost a great patriot. Mr. Speaker, it has been a true honor to stand in tribute and pay respect to the life of Mrs. Marianna Raftopoulos. She was a great leader, who is still greatly missed."
John Raftopoulos said his late wife's accomplishments will live on in the memories of many area residents for decades to come.
But now, thanks to the efforts of a Western Slope Congressman, the life of Marianna Raftopoulos is forever inked into the permanent archive of the United States.
Marianna was the first woman elected to the Moffat County Commission and perhaps one of Moffat County's most prominent women.
She died in April 2010 at 55.
In her honor, Congressman Scott Tipton, R-Cortez, read a summation of Marianna's life and work into the Congressional Record on Jan. 26 while in session in Washington, D.C., on behalf of the Raftopoulos family.
A transcript of those words commemorating her life was printed, framed in a plaque and given to the Raftopoulos family Feb. 22 when Tipton stopped in Craig to meet with residents.
"With the passing of Marianna Raftopoulos, Western Colorado has lost an inspiring leader and our nation has lost a great patriot," the tribute reads. "Mr. Speaker, it has been a true honor to stand in tribute and pay respect to the life of Mrs. Marianna Raftopoulos. She was a great leader, who is still greatly missed."
More than 1,100 people attended her funeral last year, John said. They came from all over the state to pay tribute to a woman with integrity and intelligence, he said.
"She just worked hard for everything that she earned," he said. "She didn't really expect anything unless she worked for it. She gained all that respect just by the things that she did here because she was a newcomer."
John said he still stands in awe of what Marianna was able to accomplish in her life, further evidenced by the plaque.
"It's a great honor, especially coming from the U.S. Congress and House of Representatives," he said looking down at the plaque Wednesday. "She was well respected all across the country.
"She had a great political future ahead if she hadn't have gotten sick."
The plaque will rest in a corner of the Raftopoulos home among many other awards she received during her life, John said.
Marianna wasn't a person that would have asked for such a commemorative gesture, John said. But, he thinks she would have been flattered to receive such high recognition.
"She was proud to serve," he said. "She knew it was her duty. She gave up her time and she was just the kind of person that if she was going to do something, she was going to do it right. There were no shortcuts no matter what she did."
Mari Katherine Raftopoulos said she wasn't so much surprised by the recognition her mother received considering her accomplishments. Rather, she felt honored to share her last name and to have been raised by such an inspirational woman.
"We are coming up on a year on April 14 and it's just amazing to see how her life and her leadership has continued to inspire others or that she is still getting awards and she is still being honored today," she said. "I think that is probably the most impressive part about everything that she did as a leader.
"You have the funerals and memorials, but to think that 10 months after she has passed that she is still such a huge part of the political scene and (someone) that people look up to."
Tipton said Marianna left an impression on him the first time the two met at a summer picnic in Craig more than five years ago.
"She was an exceptional person not only in the community, but someone that when you looked them in the eye, you saw sincerity and you saw caring," he said.
Tipton said much of what Marianna stood for is reflected in the Moffat County community — pride, independence and a drive to reach a "personal best level of success."
John said he sees much of his wife in his children. One particular trait, however, now belongs to their eldest son, George, he said.
"George, you know, he has got that knack, too," he said. "He wants to be in politics and he wants to take up where his mother, not where she left off, but follow in her same footsteps."
Brian Smith can be reached at 875-1794 or briansmith@craigdailypress.com.
Click here to have the print version of the Craig Daily Press delivered to your home.