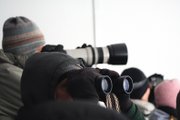 Greater sage grouse viewing trips:
— Trips being hosted by the Colorado Environmental Group and The Wilderness Society to view mating dances of the greater sage grouse are now available for registration. The groups have announced four dates so far — March 29, April 4, 6, and 7 — for the trip, but more dates are expected. The cost for the trip is $25 for residents of Moffat, Routt and Rio Blanco counties, and $50 for residents outside of those counties.
— To register, visit www.ourcolorado.org, and for more information, contact Sasha Nelson at sasha@ourcolorado...
Sasha Nelson, northwest organizer for the Colorado Environmental Coalition, said there's a simple reason residents from as far away as Great Britain came to Moffat County last spring.
They were hoping to catch a glimpse of one of the "phenomenal" and "spectacular" things wildlife does, but few are able to see.
Locally, that wildlife is the greater sage grouse and that action is its yearly mating dance, Nelson said.
"It is considered one of the most spectacular mating displays in the animal world," Nelson said of the sage grouse's dance. "There are certain things that animals do that are spectacular and amazing and this is one of those and it is right in our back yard.
"I think because it is in our backyard and people have grown up with, and gotten used to the grouse, they forget how special and unique this event really is."
However, Nelson said she and her organization contend the sage grouse's once a year mating dance is an event that could hold big benefits in the world of ecotourism for Northwest Colorado.
Last spring, the CEC and The Wilderness Society organized a series of sage grouse viewing trips, which were well attended, Nelson said. This spring, the two groups are hoping to duplicate and expand on that success.
The group is also hoping interest generated by this year's trips will foster interest from private business to take over and expand the idea for a benefit to the local economy and tourism industries in the area, Nelson said.
The greater sage grouse was listed as a candidate species for the endangered species list last year. Its mating ritual involves males inflating air sacs on their chests while dancing while on ancestral breeding grounds, called leks.
Nelson said the two groups plan to host 14 or 16 sage grouse viewing trips beginning in late March and early April.
Organizers of the trips, which are limited to 18 attendees per day, will take residents out to an undisclosed location an hour-and-a-half from Craig to a viewing trailer where they can get a glimpse of the grouse mating activity as the sun rises.
The viewing trailer is located as close to the birds as possible, Nelson said. The group has seen up to 50 grouse dancing on the lek at one time.
"We have had birds nearly fly into the trailer," she said. "(Sometimes) we can't actually get out of the trailer because we have got birds on the back step."
Last year, eight trips were offered, which sold out usually within 24 hours of being announced, Nelson said.
With that amount of interest in the activity, Nelson decided to offer more trips this year, hoping they would have more positive, economic impacts in the area with a larger amount of people coming.
"It is gaining traction nationally as a multi-million dollar industry and you know we can generally bring as many folks into the area as possible if we have exciting opportunities like greater sage grouse viewing to offer people who are interested," she said.
However, promotion of ecotourism wasn't their initial thought when the two groups decided to host the viewings last year, Nelson said.
"We learned quite rapidly last year that this could serve as a model for ecotourism businesses in the area," she said. "It allows us to show folks who are not in the business of ecotourism … that even we can put together a trip that is marketable, that gains a huge amount of interest from outside of the area — as well as a regional interest — that is quite profitable and exciting to businesses in our area."
Since last spring, Nelson approached a number of community organizations to get the word out about the idea as a viable local business, considering the CEC and TWS would likely not continue the trips in the future.
The two organizations would like to hand off the idea and serve in more of a supporting role, Nelson.
"I'm not sure that we are ready to say this is the last year, but we are close to that point," she said. "It is not our core business and we have other things we would like to do with those resources."
Moreover, the trips give local environmental groups "an opportunity to put our money where our mouths are," Nelson said.
"The environmental community has been increasingly encouraging the protection of our public lands and the preservation of those public lands as free and wild and open spaces because it can be an economic driver," she said. "This gives us an opportunity to show an example of that.
"The birds can't survive without really huge (amounts) of sagebrush country and, of course, communities can't survive without healthy economies.
"When you marry the two up, you can get both."
Click here to have the print version of the Craig Daily Press delivered to your home.