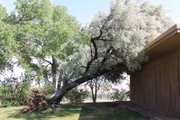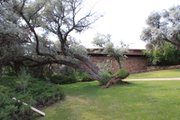 A storm Tuesday night that Colorado Northwestern Community College officials described as "violent" ripped through the school's Rangely campus, CNCC reported in a news release.
"What many are claiming to be a tornado or microburst blew through the campus taking off the roof of the northwest half of Nichol's Residence Hall," CNCC spokeswoman Becky Dubbert wrote in the release. "Students were not occupying this half, but they were in the other."
The storm occurred about 8:15 p.m. The weather also damaged the roofs at the Yeager and Cramer buildings, CNCC reported.
No one was hurt on campus in the incident. Electricity was lost during the storm, and was not back up until late Tuesday night.
The storm also uprooted several old trees, and knocked down others, including trees that fell on the president's residence.
CNCC President Russell George was in the home at the time of the incident, but was not hurt.
Damage was limited at the president's home, but a complete review of all buildings on campus is taking place today.
Click here to have the print version of the Craig Daily Press delivered to your home.