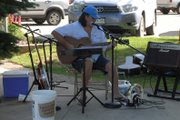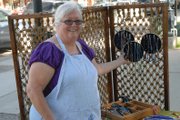 If you go…
What: Craig Farmer's Market
When: 4 to 7 p.m. Thursdays through Sept. 22
Where: Alice Pleasant Park in downtown Craig
Call: Marilynn Hill at 824-4758
Bill Ronis first started attending the Craig Farmer's Market three years ago, and since then, he has watched it grow. And, if the turnout for this year's first market is any indication, it will keep right on growing.
More than 100 people attended the first event of the summer at Downtown Craig's Alice Pleasant Park for the homegrown produce and handmade crafts offered by the 10 local vendors.
Friends Lorrae Moon, Jennifer Stagner and Kim Thompson were front and center with tables packed with homemade pasta titled Oodles of Noodles, along with jellies, kale, radishes and other vegetables.
The three women have been selling at the market since it began in 2007.
"Sales have been great," Thompson said. "It's a beautiful day, so a lot of people came out."
Susan Domer is just as familiar to the market, having attended as a shopper year after year. But this year she decided to set up her own table, selling handmade towels and napkins.
Domer sells her materials under the name All Cooped Up, in reference to the time she spent indoors weaving at her loom during the winter.
Domer said she sold out nearly her entire stock within two hours.
"Business has been almost too good," she said. "I'm going to have be at my loom all next week getting caught up to have something else to sell."
Domer said she enjoyed having the market as a social spot.
"You get to talk to more people (as a seller)," she said. "It's been just great today with the weather. I think people are ready for summer."
Domer's fellow first-year seller Debra Mack didn't have quite the same amount of success selling homemade jewelry, which she and her husband, Mike, make under the name Unique Adornments.
Debra said she had sold one piece within the first hour of setting up, but she is looking forward to continue selling at the market.
"We're really curious to know what people want and what people like," she said.
Ronis was set up on the sidewalk providing live music for the event. In addition to singing songs by artists like Zac Brown and Jimmy Buffett, he also played the harmonica, guitar, banjo and tambourine, which he has rigged with a foot pedal.
"It's been a huge turnout today," he said. "Just a pleasant day in Alice Pleasant Park."
The Farmer's Market continues from 4 to 7 p.m. Thursdays through Sept. 22 at Alice Pleasant Park.
Click here to have the print version of the Craig Daily Press delivered to your home.