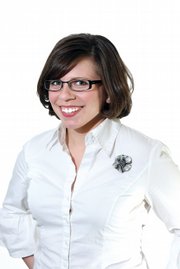 Weekend movie show times
West Theatre
29 E. Victory Way
824-2000
• "Cars 2," G; 7 and 9:05 p.m. Fri. and Sat., 4 and 7 p.m. Sunday
• "Green Lantern," PG-13; 7 and 9:05 p.m. Fri. and Sat., 4 and 7 p.m. Sunday, 7 p.m. Monday and Tuesday
• Tickets: $7 for ages 10 and older, $5 for ages 9 and younger
• Sunday matinee: $5 for ages 10 and older, $4 for ages 9 and younger
Submit your event
Submit your event's details for consideration by e-mailing me at mballeck@craigdai... or calling 875-1790.
It's a full weekend of summer fun with everything from produce to live music and running to motocross.
■ Get revved up for motocross races scheduled for Sunday at Thunder Ridge Motor Sports Park, south of Craig.
Sign-up is at 7 a.m. and the first race is at 9:30 a.m. All age groups and classes are welcome.
It's $25 to compete or $10 to watch.
Call Gregg Kolbaba at 629-0838 for more info.
■ Get a good belly laugh as J.W. Snack's Bar & Grill, 210 E. Victory Way, hosts two comedians at 9 p.m. Tuesday.
Scot Shields of the Just Another Hangover Tour headlines the event.
There's no cover, so sit back and relax with a cold one.
■ Chow down and kick it up at a fundraiser event for The Haven Assisted Living Center.
An old-fashioned barbecue and dance are scheduled for 6 to 10 p.m. Saturday at The Haven, 300 S. Shelton Lane, Hayden.
The band Loose Change will perform, plus there will be a beer garden and kids' activities.
Get tickets at the door for $15 per person, $25 per couple and $8 for students ages 6 to 18. Those ages 5 and younger get in for free.
Get more details from Karen at 875-1888.
■ Get your share of fresh locally grown produce at this season's first Farmer's Market from 4 to 7 p.m. Thursday at Alice Pleasant Park in downtown Craig.
The market continues on Thursdays through Sept. 22.
Call Marilynn Hill at 824-4758 to find out more.
And while you're checking out the first market of the season, check out Union Wireless, the host of the next Craig Chamber of Commerce Ambassadors business after-hours mixer, from 5 to 7 p.m., also at Alice Pleasant Park.
RSVP to the mixer by calling 824-5689 or e-mailing office@craig-chamber.com.
■ Shop until you drop at the Calvary Baptist School fundraising community garage sale.
The sale runs from 8 a.m. to 2 p.m. Friday and Saturday at Calvary Baptist Church, 1050 Yampa Ave.
Call 824-3111 to learn more.
■ Vote for your favorite cutie in the Humane Society of Moffat County's Pet Mates Calendar contest.
The organization will host voting for the contest from 4 to 7 p.m. today at Walmart, 2000 W. Victory Way; 4 to 7 p.m. Thursday at the Farmer's Market at Alice Pleasant Park in downtown Craig; and 4 to 7 p.m. Friday at Murdoch's Ranch & Home Supply, 2355 W. Victory Way.
And not to sway your vote, but there's one fuzzy mutt named Floyd that I personally think tops them all.
■ West Theatre is getting in the new release "Cars 2" and holding over "Green Lantern" this week.
New at Redbox this week are some older films like "Bending All the Rules," "The Core," "Forget Me Not," "Juice" and "3 Idiots."
Click here to have the print version of the Craig Daily Press delivered to your home.