Photo Gallery
Ribbons for trophies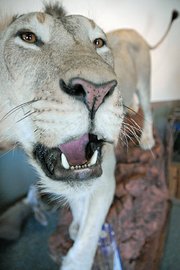 Local winners
Craig winners from the Colorado State Taxidermy Competition from June 2 to 4 in Salida:
• Scott Moore, Mountain Man Taxidermy — two awards, including first prize for collaborative artist for "Can't Kill the King," a life-size African lion mount.
• Leland Reinier, Big Cat Taxidermy — four awards, including best of show for a life-size stone sheep and first prize for "Can't Kill the King."
• Mark Zimmerman, Bullseye Taxidermy — four awards, including first prize in the Mule Deer Challenge.
Earlier this month, two local taxidermists accomplished something that, within their trade, would have been unthinkable 20 years ago.
Scott Moore and Leland Reinier submitted a collaborative piece to a taxidermy competition and won.
Their entry — a life-size African lion mounted on a rock cropping called "Can't Kill the King" — won first place in the collective artist division at the Colorado State Taxidermy Competition from June 2 through 4 in Salida.
The event pitted an estimated 75 entries against each other. Taxidermists from all over the southwest states competed.
Things were different in the business a few decades ago, the 34-year-old Moore said.
"When I first took over the business … taxidermy secrets were secret," he said. "The guy down the street wouldn't tell you what he did to make it look nice.
"It's changing now."
Moore, who owns Mountain Man Taxidermy on Yampa Avenue in Craig, literally worked with a guy down the street. Reinier owns Big Cat Taxidermy near the corner of Yampa Avenue and Victory Way.
Earlier this year, Moore sought Reinier's assistance with the African lion project.
Reiner said he jumped at the opportunity.
"I think a lot of people — and a lot of people in Craig — will think it's funny that we got together and worked on that piece," said Reinier, 33. "But, at the end of the day, we both became better taxidermists.
"And now, we're good friends because of it."
Reiner, who won a total of four awards, including best of show for a life-size stone sheep mount, agreed collaboration was outside the norm when he was growing up.
Reinier started working as a taxidermist in 1990 in his father's taxidermy shop. His father, Bob Reinier, owns B & L Quality Taxidermy in Steamboat Springs.
"He was the greatest," Reinier said of his father. "Nobody else compared."
The elder Rainier guarded his trade knowledge, he said.
"Dad's always been private and secretive about that stuff," he said. "Dad has hardly ever gotten along with other taxidermists. He never joined an association. He's never been to the shows."
Reinier said he felt the same way until he started his own business in Craig seven years ago. He realized the industry could be different.
"I tried breaking that down," he said. "I don't mind doing work with these guys and competing right alongside them. I think it's great. It makes you a better taxidermist.
"You get to work with these guys and see how they do some of that stuff. It's better for you and it's better for them."
Taxidermist Mark Zimmerman also attended the state competition. Zimmerman, who owns Bullseye Taxidermy in Craig, took first prizes for game-head mounts in deer, elk and antelope competitions. He also won first prize for Mule Deer Challenge, an annual event at the state taxidermy competition.
Zimmerman, 43, agrees with Moore and Reinier's assessment of the industry.
"They're exactly right," he said. "In years past, if there was something you were doing that was working well for you, you didn't want anybody else to know about it."
He said competitions like the one in Salida have helped change perspectives.
"We have seminars that are going on," he said of the events. "There's really nothing that's a secret anymore. Every taxidermist is willing to help another taxidermist.
"It just helps our industry."
Moore said he invested nearly $4,000 into his African lion piece. The project took an estimated 80 hours to complete.
For their time, money and skills, Moore said the men won ribbons, not cash prizes.
"And, the glory," he said.
Moore got started in the trade at 15 years old. He served as an apprentice to Bob Barton, the former owner of Mountain Man Taxidermy.
Moore said he was fortunate to catch that break in the old days, and people who weren't so fortunate may have played a part in changing the profession.
"I was lucky in that he took me in and taught me how to do it," Moore said of Barton. "I think there were a lot of people who were turned away and had to learn on their own, and got the attitude that they're not going to be that way.
"If someone wants to learn, then they're willing to teach."
Zimmerman said there's a simple explanation for the number of award-winning taxidermists in Craig.
"Craig is … man, it's just the hub of hunting," he said. "We've got the largest migrating elk herd in the world right here.
"There's just so much work here for all us taxidermists."
Click here to have the print version of the Craig Daily Press delivered to your home.