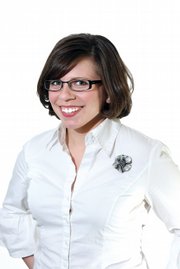 Weekend movie show times
West Theatre
29 E. Victory Way
824-2000
• "Kung Fu Panda 2," PG; 7 and 9:05 p.m. Fri. and Sat., 4 and 7 p.m. Sunday
• "X-Men: First Class," PG-13; 7 and 9:05 p.m. Fri. and Sat., 4 and 7 p.m. Sunday, 7 p.m. Monday and Tuesday
• Tickets: $7 for ages 10 and older, $5 for ages 9 and younger
• Sunday matinee: $5 for ages 10 and older, $4 for ages 9 and younger
Submit your event
Submit your event's details for consideration by e-mailing me at mballeck@craigdai... or calling 875-1790.
It's a fairly quiet weekend around Craig, which means this might be a good weekend to head out of town or get started on all of those summer projects you've been looking forward to.
■ Dust off your clubs and sign up for the Moffat County Sheriff's Office's 24th annual Scholarship Fund Golf Tournament.
The tourney, a four-person scramble, tees off at 7:30 a.m. Saturday at Yampa Valley Golf Course, 2179 Colorado Highway 394.
It's $40 per person plus green fees for non-members. You can buy two mulligans to help you along.
First-, second- and third-place teams in net and gross divisions will receive pro shop credits. Prizes will also be rewarded for closest to the pin and straightest drives.
Get your entry form at the golf course or by calling Rick Holford at 826-2308.
■ Let's stick with golf. The Memorial Hospital Foundation announced Tuesday that its 11th annual golf tournament will take place June 24, also at Yampa Valley Golf Course.
The tournament is a four-person scramble that benefits the hospital foundation. Check-in is at 11 a.m., and the shotgun start is at noon.
The entry fee is $50 per person, or $200 per team. There's golf, food and a chance to win cash prizes. Sounds like a fun day to me.
The deadline to register is June 20.
For more, call the golf course at 824-3673 or the hospital foundation at 824-2424.
■ Sing your heart out at the monthly open mic night at Carelli's.
The show starts at 6:30 p.m. Tuesday at the restaurant, 465 Yampa Ave.
Call 824-6868 for more.
■ Say goodbye to a popular doctor.
A community going-away reception for Dr. Greg Roberts is set for 5 to 8 p.m. Thursday at The Center of Craig, 601 Yampa Ave.
It'll be a nice time to wish Dr. Roberts and his family — who have undoubtedly touched a lot of us, including my family — well before they move to Minnesota.
■ And finally, the Northwest Colorado Republican Women's Club is hosting its June meeting at 11:45 a.m. Friday at the Galaxy Chinese Restaurant and Lounge, 524 Yampa Ave.
Officers will be installed, and the meeting is open to all Republican women and men. Membership information is also available.
■ West Theatre is keeping "Kung Fu Panda 2" and "X-Men: First Class" for another week.
New at Redbox this week are "True Grit," "Just Go With It," "The Company Men" and "Another Year."
Click here to have the print version of the Craig Daily Press delivered to your home.