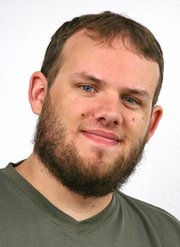 'Kung Fu Panda 2'
3 out of 4 stars
91 minutes
Starring the voices of: Jack Black, Angelina Jolie, Dustin Hoffman and Gary Oldman.
Now playing at West Theatre and Steamboat Springs' Metropolitan Wildhorse Stadium Cinemas.
The protagonist of "Kung Fu Panda 2" goes against some standards set for action heroes. For example, he lacks the ability to walk three flights of stairs without puking and his tummy rumbles even in the middle of a fight.
But, once you light a fire under this big black and white cannonball, get out of the way and prepare to watch the fireworks.
As the Dragon Warrior, Po the Panda (voice of Jack Black) must endure a great deal of training as he continues to protect the Valley of Peace. Not everything is as easy as stuffing 40 dumplings in his mouth at once, but he has finally learned how to attune his body to a style befitting a kung fu master.
But, the world of kung fu, as well as the rest of China, is on the verge of annihilation, as the destruction-minded peacock Lord Shen (Gary Oldman) returns from a long exile to overtake his old kingdom and beyond. The task of stopping the warlord falls to Po and his compatriots, the Furious Five: Tigress (Angelina Jolie), Mantis (Seth Rogen), Monkey (Jackie Chan), Crane (David Cross) and Viper (Lucy Liu).
But, this duty couldn't come at a worse time for Po, who's struggling to find his way as he realizes everything he knows about his past is a lie and finding the truth may come down to confronting this new adversary.
Black once again provides the perfect voice for newfound kung fu champion Po, who's no less of a glutton and a klutz than before he became the Dragon Warrior, though somehow he's made it work for him. But, it can be hard to concentrate when you've found out that the guy you thought was your father found you in a box of radishes.
Yes, as hard as it is to believe, Mr. Ping (James Hong), the goose, is not Po's natural dad.
Jolie has a commanding presence as Tigress, the most dedicated and straight-faced of the Furious Five, with little discernible difference between an icy glare and a hug. The rest of the Five are also fine, though it seems wrong that real-life martial artist Chan gets the least amount of lines.
As Po's knee-high mentor, Master Shifu, Dustin Hoffman has a smaller part to play as he lets his students handle this new threat, but he's no less important, planting the seed of thought in Po's head as the panda tackles the concept of inner peace.
Dennis Haysbert and Jean-Claude Van Damme are welcome additions as fellow kung fu masters, as is Michelle Yeoh as a prognosticating goat who predicts Po's imminent victory, but Oldman is unbeatable as Shen, a skittish, cruel bird modeled after Ming the Merciless, whose beautifully brilliant plumage belies the madness within as he sets out to take over China armed with firepower galore.
But, he's only packing so much heat to compensate for his insecurities, as all the great villains do, though Po isn't without his own uncertainties in what defines him.
While the first "Kung Fu Panda" pigeonholed Po as little more than a doofus who happened to be in the wrong place at the right time, we get more of a sense of where he comes from and what his destiny is. Initially, the people of DreamWorks Animation borrowed substantially from the Disney character library, making their hero a combination of Baloo the bear and Mulan, but now they add a touch of "Bambi" into Po's history in a heartbreaking flashback of his early life.
There's a worthy mélange of emotional yin and action-packed yang in this sequel, making it just as good and, in some parts, better than its predecessor. As always, Black's slacker personality inspires laughter, but Po can be deep, too, slowing things down with a tai chi-like exercise that resonates to the very core of all our beings.
That is, when he's not preoccupied playing with his action figures.
As colorfully vivid and lightning fast as before, "Kung Fu Panda 2" expands its hero's saga adeptly and keeps everything we loved about it the first time around. And, with a coda that promises even more in the future, let's hope DreamWorks will get started on the third faster than you can say "skadoosh."
Now playing at West Theatre and Steamboat Springs' Metropolitan Wildhorse Stadium Cinemas.
Click here to have the print version of the Craig Daily Press delivered to your home.