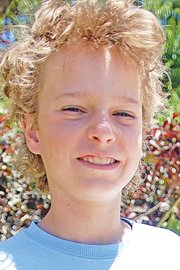 In other action ...
During its regular Tuesday meeting, the Craig City Council:
• Approved, 5-0, a special events permit for a beer garden at the Moffat County Fairgrounds as requested by American Legion Post 62.
• Approved, 5-0, renewal of the 3.2-percent beer retail liquor license for City Market No. 15 at 505 W. Victory Way.
• Approved, 5-0, a supplemental budget request for wastewater treatment repairs
• Tabled discussion of an introduction to Ordinance 1015, licensing pawnbrokers in the City of Craig.
— Mayor Terry Carwile and council member Byron Willems were absent.
Before Jeremy Looper addressed Craig City Council, some adjustments had to be made to the microphone.
Looper, an 11-year-old Craig resident and member of Boy Scouts Troop No. 172, could barely see over the podium. After some deliberation, City Manager Jim Ferree decided to hold the microphone so Looper could be heard.
Looper attended the council's regular Tuesday meeting to discuss the ordinance that prohibits chickens within city limits. Several members of the audience spoke for and against chickens, and the council weighed in on the issue, too.
As introduction, Looper said he has always wanted to raise chickens and his attendance at the city council meeting will help him earn a Citizenship in the Community Merit Badge through the Boy Scouts.
During his presentation, Looper outlined what he believes are the benefits of owning chickens:
• Fresh eggs are better, he contends.
• Chickens help reduce food waste because the omnivorous birds will eat table scraps.
• Chickens are a cheap source of fertilizer.
• Chickens help keep lawns trimmed.
• They are low-maintenance pets.
Looper listed other Colorado communities that allow the fowl – Steamboat Springs, Denver and more.
After Looper's presentation, several community members approached the podium to speak their peace.
Craig resident Devin Jurgensen said she opposes chickens in town.
"My father-in-law lived out by Loudy-Simpson and he had (chickens)," she said. "Flies come along with their waste."
Jurgensen said chickens are incompatible with city life.
"If I wanted chickens, I'd live out in the country," she said. "I chose to live in the city so I don't have that nuisance."
Next, Craig resident Susan Domer spoke on behalf of chickens.
"I have done a lot of reading, I've grown up around chickens," Domer said. "Chickens are as dirty as their owners are.
"You can have a good, clean chicken coop if you clean it every day."
Domer said four or five chickens is a reasonable number, and the birds are well behaved.
"They don't bite mailmen, they don't bark all night long and they don't chase the neighborhood children," she said.
Craig resident Bobbi Grove also grew up with chickens, she said.
Her memories of the birds are not so fond.
"They bring a world of bugs," she said. "The bugs go into your houses. They go everywhere.
"(Chickens) smell god-awful. And, no, they don't bark, but they do cackle. And anybody who walks within ten feet of them knows that, because they do scatter and scream."
Grove said she respected Looper's involvment in local government, but she questioned his sincerity.
"What the little guy is saying is all well and good, but mostly he wants a badge," she said. "I have to admire that, but I don't have to buy it."
Cindy Looper, Jeremy's mother, rose to the podium next.
"I just want to make one correction," she said. "The badge does not require Jeremy to talk to you. It just requires him to be here (at a city council meeting)."
Next, individual council members voiced their opinions.
Councilor Don Jones recalled a time before the current ordinance.
"Thirty years ago, we used to have chickens in Craig," he said. "Everybody in town had chickens"
Jones said the town also had a large contingent of skunks during that time.
"Skunks love chicken eggs," he said. "We got rid of the chickens and we had a big skunk drive. The sheriff's posse went up and down the alleys, and I don't know how many hundreds of skunks were shot during those two months of driving."
Jones said he agrees with Looper that fresh eggs are better.
"But, there is also a place for the chickens. And, for me, that's not within the City of Craig," Jones said.
Council member Gene Bilodeau said dog owners provide an easy analogy to potential chicken owners.
"We have people in the community that do an exceptional job of taking care of their dogs," he said. "And, we have, in my mind, an inordinate amount of people who do not take care of their dogs.
"I guess I'm real leery."
Council member Joe Bird said he had performed an Internet search during the discussion.
"I just Googled 'things that eat chickens,'" he said. "There's a long list that comes up, and about 90 percent of which call Craig or this county…their home.
"What's going to come into town because you have live bait?"
Bird cited badgers, mountain lions, foxes and wolves as potential predators of domestic chickens, and wondered what might happen if those wild animals make contact with people.
"That might sound extreme, but I'm more for making sure we're protecting the citizens of Craig, and not the ability to house (chickens)."
Council member Jennifer Riley said she is not a proponent of introducing chickens to Craig. And, she acknowledges the subject has the potential to divide people.
"My own household is a divided household on this issue," she said. "Some of us want chickens and some of us don't. One of us votes on City Council, one of us doesn't.
"Obviously people are passionate on both sides. I do appreciate the comments and I look forward to the oncoming debate that I'm sure we'll have."
Riley said the issue would be addressed again at the next council meeting on Aug. 9. She encouraged Craig residents to attend.
Click here to have the print version of the Craig Daily Press delivered to your home.