Photo Gallery
2011 Yampa River Junior Classic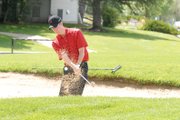 Results from Monday's Yampa River Junior Classic at Yampa Valley Golf Course:
15- to 17-year-old group:
Boys
Smith — 70
King — 83
Yoast — 131
Girls
Harjes — 106
13- to 14-year-old group:
Lauinger — 79
Martin — 80
Hadley — 116
10- to 12-year-old group*:
Smith — 41
T2. Jacobson — 61
T2. Rose — 61
8- to 9-year-old group:
Smith — 39
Jones — 55
5- to 7-year-old group *:
Boys
Peck — 17
T2. Beckett — 18
T2. Andujo — 18
Girls:
Hafey — 28
Jones — 30
Tucker — 36
The 10- to 12-year-old group played nine holes.
The 8-to 9-year-old group played six holes.
* The 5- to 7-year-old group played three holes.
Cole Hoth stared down the 13th hole Monday at Yampa Valley Golf Course, his ball sitting just off the green.
When Hoth, 14, approached his ball, he squared his shoulders and chipped toward the hole.
The ball didn't quite make it to the cup, coming up a few inches short, but Hoth was still smiling.
"My chipping has been good all day," Hoth said Monday. "If you can get a good chip, that puts you in decent putting range when you get on the green."
Hoth was one of 34 youth golfers who competed in the Yampa River Junior Classic on Monday.
Players ranged from ages 5 to 17, with the 5- to 7-year-old groups playing three holes, the 8- to 9-year-old groups playing six, the 10- to 12-year-old groups playing nine, and the 13- to 17-year-old groups playing 18 holes.
Hoth, who was competing in his first golf tournament, said he was excited to try something new.
"I have played golf before, but never in a tournament," he said. "I've played good here and there and other times I would play sloppy. You have to be able to slow down the swing and hit straight to get a good score. When you rush, that is when everything goes wrong."
Connor Murphy, 10, said he signed up for the tournament to be outside and to hang out with his friends.
"My dad plays golf and it always looked like a great time," Murphy said. "It is a fun sport and you get to enjoy the nice days playing with friends."
For Murphy, driving and putting presented the most difficult challenges on the course.
"When you are driving, you have to hit the ball as straight as possible to get a good chip," he said. "Putting is definitely the hardest though because you never know how the greens are going to play."
Hoth took it one step further than Murphy when he said the game of golf as a whole is difficult.
"I think everything you do in golf has different challenges," he said. "You can be on and playing good one second, but really quickly you can mess up and keep messing up."
For a group of older players, including Parker King, 16, and Caitlin Harjes, 15 — both golfers for Moffat County High School — the tournament provided a nice way to keep up on their game.
"It was not my best day, but I did make some good things happen," Harjes said. "My chipping is not as good as it used to be, so I worked on that (Monday). I have played in the tournament a long time and plan to keep doing it until I am too old."
Dave Desarmeaux, the assistant professional at the golf course, said the tournament is a great way to introduce young players to the sport.
"We handed out trophies for first, second and third, and some kids who didn't win will want to keep practicing and do better next year," he said. "It is a good experience for the kids and a few will get hooked and continue to play in a lot of different junior tournaments."
Click here to have the print version of the Craig Daily Press delivered to your home.