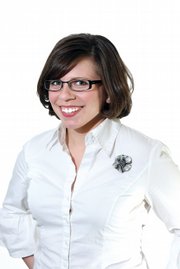 Weekend movie show times
West Theatre
29 E. Victory Way
824-2000
• "Harry Potter and the Deathly Hallows: Part 2," PG-13; 7 and 9:05 p.m. Fri. and Sat., 4 and 7 p.m. Sunday
• "Captain America: The First Avenger," PG-13; 7 and 9:05 p.m. Fri. and Sat., 4 and 7 p.m. Sunday, 7 p.m. Monday and Tuesday
• Tickets: $7 for ages 10 and older, $5 for ages 9 and younger
• Sunday matinee: $5 for ages 10 and older, $4 for ages 9 and younger
Submit your event
Submit your event's details for consideration by e-mailing me at mballeck@craigdai... or calling 875-1790.
It's a relatively quiet weekend in Craig, so it's an opportunity to make sure you're getting in all the fun you can while the weather holds up.
School begins in less than six weeks, so don't let summer slip away.
■ Practice your swing and pull out your poodle skirt.
Yampa Valley Golf Course, 2179 Colorado Highway 394, hosts its TGIF four-person scramble couples tournament with a '50s theme beginning at 5:30 p.m. Friday.
It's $46 per couple.
Call 824-3673 if you need to know more.
■ Thunder Ridge Motor Sports Park gives stock car races another chance at 7:30 p.m. Saturday at the track south of Craig.
Registration for racers is $25. Admission is $10.
Take your own chair to watch.
For more information or to confirm races are a go, call Gregg Kolbaba at 629-0996.
■ Help out the Humane Society and find a steal at the organization's annual garage sale.
The sale runs from 8 a.m. to 1 p.m. Friday and Saturday in the barn at 2205 E. Ninth St.
Call Ann at 826-2717 for more details.
■ Take care of your kids' health needs now instead of putting it off until the beginning of the school year.
The Northwest Colorado Visiting Nurse Association's Community Health Center is hosting a Child Health Fair from 8 a.m. to 5 p.m. Friday at the center, 745 Russell St.
Get well child exams and sports physicals for $25, and get dental screenings, car seat checks, immunizations and plenty of healthy living info. for free.
Call the VNA at 824-8233 with any questions.
■ This week at West Theatre, catch new release "Captain America: The First Avenger" or "Harry Potter and the Deathly Hallows: Part 2," if you're eager to see it again.
New at Redbox this week are "The Adjustment Bureau," "The Eagle," "Unknown," "Cedar Rapids," "Rango" and "Diary of a Wimpy Kid: Rodrick Rules."
Click here to have the print version of the Craig Daily Press delivered to your home.