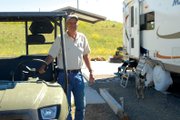 Quotable
"What I enjoy about this park is it's tucked away, it's not that well known, and it's a nice place to come and hide out for a weekend. The local people can come out and enjoy it, people traveling through can come check it out and besides that, the lake is pretty good fishing."
— Phil Poucher, a "traveling man" who's stationed at Elkhead State Park as the campground host for the summer
For most of his professional life, Phil Poucher spent his life on the road. Working for 35 years as a trucker, he drove from town to town, state to state, coast to coast.
In retrospect, it was not the most fulfilling line of work.
"I went everywhere, but I saw nothing," Poucher said. "Everything that I saw was on the inside of my Peterbilt."
For the last several years, Poucher has been traveling almost as much, but nowadays the journey and the destination are equally important.
Poucher's latest travels have brought him to Northwest Colorado's Elkhead State Park in eastern Moffat County and western Routt County. First setting up at the park's campground at beginning of June, Poucher will serve as the campground host throughout the summer.
As a campground host, his duties include performing park maintenance and assisting campers with any kind of help they might need. In exchange for working the volunteer position, Poucher receives free access to the park for the entire summer.
"Basically, I like to think of myself as a helping hand, wherever I can help out or assist, I'm available to the campers 24/7, and I know the people to contact with any problems," he said. "I've loved the Colorado outdoors my entire life, and this way I can pay them back a little bit."
Poucher is certified in First Aid, CPR and boat inspection. Most of the work he does on a daily basis is cleaning the area bathrooms, picking up litter and interacting with campers.
In the six weeks he has been camped out at Elkhead, he has met both Moffat and Routt county locals and out-of-towners.
"What I enjoy about this park is it's tucked away, it's not that well known, and it's a nice place to come and hide out for a weekend," he said. "The local people can come out and enjoy it, people traveling through can come check it out and besides that, the lake is pretty good fishing."
Poucher occasionally drives into Craig for supplies or a meal at a restaurant, but while onsite, he is always willing to share a campfire at his site and introduce people to his canine traveling companion, Sadie, who, like him, is always "a happy camper."
Poucher, 72, is a retired Colorado native whose mailing address is in Longmont. He has volunteered as a campground host for three years and describes himself as "a professional RVer." He carries business cards that designate him a "traveling man."
He has worked within Colorado at State Forest State Park near Walden, as well as in drastically different climates such as Death Valley National Park in southeastern California and southern Nevada; Padre Island near Corpus Christi, Texas; and Anastasia State Park near St. Augustine, Fla.
Though he loves Colorado in the summer, Poucher said he sticks to warm locations in the wintertime.
"I tried to promise myself that I would never get snowed on again," he said.
Poucher first discovered the opportunity to work as a campground host about 20 years ago during a vacation at Blue Mesa Reservoir near Gunnison.
"I had talked to a guy that said he was the host, and he explained what that meant, and I remembered that for when I was old enough to do that," he said. "When it came time, I sold my house and everything that I thought I ever wanted to own and got my trailer."
The process by which he travels isn't as easy as just picking a point on a map and driving there. Campground hosts are chosen based on applications sent to state and national parks months in advance.
"They get hundreds of applicants," he said. "You do everything online these days, so I contacted as many parks as I could, and it's just like putting your name in a hat."
Matt Schuler, a senior state park ranger for Yampa River and Elkhead State Parks, said Poucher has been a huge asset to Elkhead in his time at the park.
"I've had people come up to me and express their gratitude that there's somebody in the park who's friendly and easy to approach to answer their questions about administrative rules and passes and, 'What all is there to do?'" Schuler said.
Poucher will remain camped at Elkhead through Labor Day before traveling back to Florida's Anastasia State Park for the colder months.
"I'm welcomed everywhere I go, and people ask, 'You don't get paid for this?' and I say, 'No, I don't get paid,' but, boy, do I get paid," he said.
Click here to have the print version of the Craig Daily Press delivered to your home.