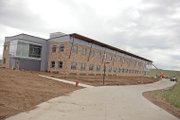 If you go…
What: Colorado Northwestern Community College ribbon-cutting ceremony
When: Noon Aug. 8
Where: CNCC academic building, 2801 W. Ninth St.
— The ceremony is open to the public and will include refreshments and tours of the new facilities from 12:30 to 4 p.m. For more information, call CNCC at 824-1109.
With the snip of a pair of scissors, the faculty at Colorado Northwestern Community College's Craig campus will be able to look toward the future in providing secondary education in a new home.
CNCC will host a ribbon-cutting ceremony at noon Aug. 8 at its new site, 2801 W. Ninth St., which includes an academic building and a career technical building.
The opening event marks the culmination of a project that has been in the works for the school since the mid-1990s.
The school first purchased the land in 2001, and after numerous adjustments, started construction with Aurora firm Adolfson & Peterson in spring 2010.
Construction is nearing its final stages, with workers completing the buildings' furnishings, landscaping and other details through the beginning of August.
Representatives of the Colorado Community College System will be present at the ceremony, and the public is invited, as well. Attendees will be able to take guided tours of the new buildings.
The academic building includes a library, book store, classrooms, science labs and faculty offices, while the career technical building will house facilities for the school's cosmetology and massage therapy programs, among others.
Gene Bilodeau, vice president of the school's Craig campus, said he's excited about seeing everything come together, in more ways than one.
"I'm really looking forward to having all the programs in the same place instead of scattered all over town," he said.
Robin Brumback, Bilodeau's administrative assistant, said the convenience of having numerous programs and offerings in the same location will benefit the entire student body and faculty.
"Right now, we've got so many pieces of the college (that) whenever it comes time to arrange classes, I've run out of room," she said. "When we're there, we'll have more of a group feeling and having everybody together, and it'll be more active and more exciting with more student participation."
Bildoeau said the career technical building will also allow for more intensive sessions in some programs.
"We want to be able to expand our specialized mining training so that we can have it localized and maybe pull in a mining expert to talk to them," he said.
The new campus officially opens Aug. 9, and the first day of classes is scheduled for Aug. 22.
Additionally, CNCC's Bell Tower building at 50 College Drive will still be operational once the new buildings are up and running.
"We'll still have community education classes here (at the Bell Tower)," Brumback said. "We're thinking of renting out some of the offices as a small business incubator, but that's down the road a ways."
Bilodeau said CNCC won't halt its growth with the completion of the new buildings. Plans are under way for an automotive technology building to be completed later this year.
The school also plans to build a 32-student residence hall.
"We'll be putting the contract out for that in late winter, early spring (2012)," Bilodeau said. "We want to build as our population grows."
Bilodeau said he also wants to expand CNCC's athletics by adding an official soccer team in the near future.
"We probably won't be able to start that this fall, but I'd like to get it going on the club level," he said.
Bilodeau said school administrators have also discussed the possibility of starting a school football team.
"The travel wasn't really cost-effective," he said.
Although there's enthusiasm for the new campus, Bilodeau said he wants to quash rumors about the growth of the Craig campus overtaking Rangely as the school's hub.
"We're not trying to replace them," he said. "We just want to enhance what we're already doing."
Click here to have the print version of the Craig Daily Press delivered to your home.