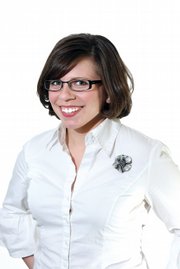 Weekend movie show times
West Theatre
29 E. Victory Way
824-2000
• "Cars 2," G; 7 and 9:05 p.m. Fri. and Sat., 4 and 7 p.m. Sunday
• "Transformers: Dark of the Moon," PG-13; 7 and 9:05 p.m. Fri. and Sat., 4 and 7 p.m. Sunday, 7 p.m. Monday and Tuesday
• Tickets: $7 for ages 10 and older, $5 for ages 9 and younger
• Sunday matinee: $5 for ages 10 and older, $4 for ages 9 and younger
Submit your event
Submit your event's details for consideration by e-mailing me at mballeck@craigdai... or calling 875-1790.
There's plenty of fun to be had this weekend — from golf luaus to music and tie-dye fun. It's summer, and the season doesn't last long here, so get out of the house and enjoy.
■ Carelli's Pizzeria & Taphouse gets the party going with an all-day celebration Friday.
The Dirty Hippie Party — in collaboration with Palisade Brewing Company, which produces Dirty Hippie beer — runs from 11 a.m. to 9 p.m. at the restaurant, 465 Yampa Ave.
Take a T-shirt to tie-dye or cash to buy one already done.
There will be games from 2 to 4 p.m. and drink specials throughout the day.
Call 824-6868 if you need to know more.
■ Dance the night away with Taylors Bayou, playing at 9 p.m. on Friday and Saturday at the Sports Page Bar at the Holiday Inn of Craig, 300 S. Colorado Highway 13.
There's no cover, so put on your dancing shoes — or kick them off — for a great time.
■ It's luau night at Yampa Valley Golf Course.
That's the theme for the course's TGIF two-person scramble couples tournament beginning at 5:30 p.m. Friday.
The cost is $46 per couple.
Get more details from 824-3673.
■ Educate yourself and possibly save a life.
Applied Suicide Intervention Skills Training is scheduled for Thursday and Friday at the Moffat County Public Safety Center, 800 W. First St.
Reaching Everyone Preventing Suicide presents the free workshop from 8:30 a.m. to 4:30 p.m. each day.
To enroll, call 846-8182.
■ Saddle up your horse and ride into the Routt County Fairgrounds for the Yampa Valley Horse Show Association's open horse show Saturday.
It kicks off at 8 a.m. Saturday in Hayden.
The cost is $9 in advance at www.yampavalleyhorseshow.com or $10 on show day.
Call Christina at 871-4567 or e-mail info@yampavalleyhorseshow.com.
■ Grab your sunscreen and head down to the Craig Sea Sharks ABC Meet on Friday, Saturday and Sunday at the Craig Swimming Complex, 605 Washington St.
Swimming starts at 9 a.m. Friday and 8 a.m. Saturday and Sunday. General admission is free.
■ Stock cars finally get on the track at 7:30 p.m. Saturday at Thunder Ridge Motor Sports Park, located south of Craig.
Admission is $10 and don't forget to bring a chair.
■ Open mic night returns.
The mic will be waiting from 6:30 to 9 p.m. Tuesday at Carelli's.
So warm up your vocal chords, or head down there for a cold one.
Call the restaurant at 824-6868 for details.
■ West Theatre is holding "Transformers: Dark of the Moon" and "Cars 2" for another week.
New at Redbox this week are "Sanctum," "Blue Crush 2," "Of Gods and Men," "Bond of Silence" and "Chained."
Click here to have the print version of the Craig Daily Press delivered to your home.