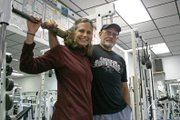 About Jim and Barb Gregoire
Jim Gregoire, 63, has been a fitness trainer since he was in his 20s. He has been the trainer at Trapper Fitness Center for four years.
Gregoire was a five-time Colorado short track speed skating champion in the 1970s. He continues to run marathons, including the Pikes Peak Marathon, ride in 100-mile bike races and take part in cross-fitness training.
Gregoire's wife, Barb, also joins him in cross-fitness training and marathons.
In her 30s, Barb got her workouts in by being a body builder. At 54, Barb's favorite form of exercise is competing in half marathons.
Barb is one of three teachers in Trapper Fitness Center's January senior racquetball clinic.
In November 2010, the two became the owners of Trapper Fitness Center.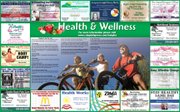 1. No excuses
There are 168 hours of life per week. Subtract 40 hours for work and subtract 56 hours for sleep and you have a balance of 72 hours. Clean the house, walk the dog, fix meals, brush teeth, watch the Broncos, nap, etc. You can put aside at least three one-hour sessions per week, minimum to exercise. You can't say you don't have time — you do that because all else is being lazy.
2. Get motivated
That is the real trick. Get motivated, stay motivated and be motivated.
3. Get results
If you are not getting results, something is wrong. You are doing something wrong.
4. Watch what you eat
Be careful of the food you eat. The food system in this country is putrefied. Yes, there is good food, but there is a lot of bad stuff they make that taste too good and is so bad for you. Don't give rich people your money to make you fat.
5. Don't deny your pleasure food
Have your favorite treats, but be reasonable and limit yourself on the sweets. If you cannot control your sweet tooth, have it removed.
6. Exercise does not have to be complicated
One of the absolute best exercises in the world is walking. But, don't walk at the same pace forever. Mix it up. Throw in some speed walking at a faster pace until you can barely say more than a few words at a time, and then back it down. Pick out a light pole or mailbox and go hard until you get there. Recover and repeat. It only takes a half a dozen 10 second-bouts to get wonderful results with repeat intensity.
7. Change your thinking if exercise does not appeal to you
It doesn't matter if you don't like to exercise, though it means you aren't doing the right stuff. You have to exercise or your life will be limited in movement and time on earth. There are many things in life we have to do. Exercise is one of them.
8. Look for the functional movement patters in exercise
All exercise should help you move better. All else will follow. You will lose weight, you will become stronger, you will look better, you will feel better and you will be nicer to be around. People may actually find that they like you.
9. Stay off the scale
Do not weigh yourself. You will know when you have too much soft mass. Also, numbers don't mean anything at first since muscle weighs more than fat and can throw people off. Water can also fluctuate the number. When clothes start fitting looser, then you will know.
10. Don't be a wimp
Strong people are harder to kill than weak people and are more useful in general.
Click here to have the print version of the Craig Daily Press delivered to your home.