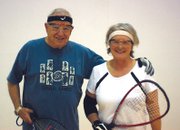 Story at a glance:
• Craig resident Bill Muldoon grew up playing racquet-based sports, including badminton and squash.
• Muldoon placed fourth in racquetball at the World Senior Games in October 2010, qualifying him for the Senior National Racquetball Championships in June in Houston.
• Muldoon, along with Barb Gregoire and Sue Eschen, hosted a six-session racquetball clinic for seniors in January at Trapper Fitness Center.
Craig resident Bill Muldoon seemed destined to be a badminton player.
He grew up with a mother who was an all star in the sport, and she put a racquet in her son's hands early.
But, badminton had its limitations, Muldoon said.
He was more suited to another sport, but one that still included a racquet.
"Growing up with wooden racquets, my mom had me playing badminton at 10 years old," Muldoon said. "But, badminton is only played competitively in really big cities, so I needed something new."
In college, Muldoon said he played another racquet-based game — squash — but again, the game wasn't played in all areas of the country.
So, in the mid-1970s, when racquetball grew increasingly popular in the U.S., Muldoon started playing. Later that decade, he was playing competitively.
"Back in the 70s, people couldn't make money from sponsors for playing racquetball like they can now," said Muldoon, now 75. "There were no professionals, but I think I was one of the top players in my area."
However, Muldoon moved around often, and when he stopped in small towns, there was usually no racquetball. He gave the sport up in the 1980s.
Last year, Muldoon and the sport reintroduced themselves.
Muldoon met Barb Gregoire and Sue Eschen, and the encounter helped lead him back to the court.
"I started playing racquetball again at Trapper Fitness Center with Barb, but I was in bad shape," he said. "I have had problems with asthma for years, so it made it hard at first getting back into the game.
"I had problems going up the stairs just to go to bed."
After the three played together for a few months, Eschen mentioned the World Senior Games in St. George, Utah, where Muldoon could play racquetball competitively again.
"When I heard about the games, I told myself I was going," he said. "I figured that would be my goal, and having a goal, I made bigger strides in my health."
To help with his training, Muldoon said he went to a tournament in Rangely last year.
The outcome wasn't so positive, he said.
"I knew I had to start somewhere, but in Rangely, I got wiped out," he said. "There were a lot of young players, and while I was good, I couldn't keep up."
Eschen said it was amazing to see Muldoon push himself and turn his health around.
"When I first walked onto the court with Bill, his breathing was deep and heavy," she said. "It has been beautiful to see the progression of his health and to see him compete now."
While Muldoon had started racquet sports as a child, Eschen didn't until the 1980s.
"The second I stepped on the racquetball court, I loved it," she said. "I enjoy competing and I have found companionship while playing."
In October 2010, Muldoon and Eschen traveled to the World Senior Games to compete in racquetball.
Muldoon competed in the 75- to 79-year-old division while Eschen, 63, competed in the 60- to 64-year-old division.
With players from all over the world competing, Muldoon said playing in the games was an amazing experience.
"I had no idea what to expect in Utah," he said. "My goal to compete there kept me focused, and I knew I could keep up with the players there.
"I played against a guy that was ranked 13th in the world, but I think I did OK."
Both Muldoon and Eschen took fourth place in their age divisions, making them eligible for the Senior National Racquetball Championships in June in Houston.
"Sue and I are both excited to compete in Houston and that is my next goal," Muldoon said. "Again, the goal will keep me focused and keep me training."
While they wait for June to roll around, Muldoon and Eschen, along with Gregoire, have found a way to help turn other senior citizens' health around.
This month, the three hosted a six-session racquetball clinic for senior citizens at Trapper Fitness Center, the last of which will take place at 1 p.m. Thursday.
Other racquetball clinics may take place in the spring if anyone is interested.
With help from Wilson Sporting Goods, the classes consisted of nine people, who, upon completing the clinic, get to keep their racquet and balls for free.
Muldoon said as he grew older he realized senior citizens need to stay active. The racquetball clinics are designed to help seniors improve their health the way he did.
"Now that I am a senior citizen, I feel I kind of know what people my age look for," he said. "We need to get exercise, and there are a few options, but racquetball is different."
Racquetball, Muldoon said, uses numerous muscles unlike some other sports where the exercises are more concentrated.
Also, Muldoon said, racquetball helps with agility, which is important for senior citizens.
"When people get older, they have a harder time getting things and reaching for things," he said. "If we can help their agility, it will help them in every day life."
Eschen said other benefits to racquetball are improved hand-eye coordination and stress relief.
"Hand-eye coordination can help older people when they drive, which is very important," she said. "Plus, when you get on the court and smash a ball into the wall, everything just disappears and you feel a little happier."
Nancy Muldoon, Bill's wife and a participant in the racquetball clinic, said the class has helped her become lighter on her feet.
"When I first started, I would just stand, flat footed, and they taught me to stand on the balls of my feet," Nancy said. "We also move side-to-side a lot and we just get a lot of extra benefits we can't find in regular aerobics."
As the national tournament approaches, Muldoon said he is focused on getting ready for Houston, including another trip to the same tournament in Rangely.
"I can tell you one thing," he said, "I will not get wiped out in Rangely again this year."
Click here to have the print version of the Craig Daily Press delivered to your home.