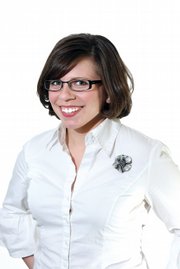 Submit your event
Submit your event's details for consideration by e-mailing me at mballeck@craigdai... or calling 875-1790.
Weekend movie show times
West Theatre
29 E. Victory Way
824-2000
• "The Fighter" — PG-13; 7 and 9:05 p.m. Fri. and Sat., 4 and 7 p.m. Sunday
• "Gulliver's Travels" — PG-13; 7 and 9:05 p.m. Fri. and Sat., 4 and 7 p.m. Sunday, 7 p.m. Monday and Tuesday
• Tickets: $7 for ages 10 and older, $5 for ages 9 and younger
• Sunday matinee: $5 for ages 10 and older, $4 for ages 9 and younger
Happy New Year, readers!
Time to get on the treadmill and stick to those resolutions, at least for a week or two.
I don't know about you, but we're still resting up and getting back into the swing of things after a fun-filled holiday vacation.
So, some chill entertainment this weekend fits the bill for rest and recuperation.
■ Sit back and enjoy the soothing sounds of some music.
The Craig Variety Show brings it to you from 5 to 8 p.m. Friday at the Veterans of Foreign Wars, 419 E. Victory Way.
The show might include songs, poetry and storytelling. You can be part of the show, too. Just call Bill Ronis at 620-6589 to join the roster.
■ Bring on the bingo.
Join the American Legion Post 62 for bingo fun on Saturday night at the Elks Lodge, 43 W. Victory Way.
Doors open at 5 p.m. and games begin at 6:15 p.m.
Call Mel Shockley at 824-3625 to get more details.
■ Holla for some hoops as the Moffat County High School Bulldogs face Glenwood Springs at home on Saturday.
Girls JV plays at 11 a.m., boys JV at 12:30 p.m., girls varsity at 2 p.m. and boys varsity at 3:30 p.m. at the high school, 900 Finley Lane.
Admission is $5 for adults and $4 for students.
■ Get your learning on with two classes this week.
Colorado State Parks and the Northwest Colorado Snowmobile Club host free Avalanche Awareness sessions at 2 and 7 p.m. Friday in the auditorium at Moffat County High School, 900 Finley Lane.
Then there's a field session at 9 a.m. Saturday at Black Mountain, leaving from the Freeman Reservoir parking lot.
Courtesy sound checks on snowmobiles will take place at the Freeman parking lot that morning.
Call Yampa River State Park at 276-2061 for more info.
Learn a new language with the start of free classes this week.
Free adult sign language classes are now being offered, with the first class from 6:30 to 8 p.m. Thursday at Calvary Baptist Church, 1050 Yampa Ave.
The textbook, "Learning American Sign Language," by Tom Humphries and Carol Padden, can be purchased at Colorado Northwestern Community College, 50 College Drive.
To find out more, call Staci Nichols or Deena Armstrong at 824-2547.
■ West Theatre has "The Fighter" and "Gulliver's Travels" beginning Friday night for some more relaxed leisure.
Redbox has out "Case 39," "Dinner for Schmucks" and "Inception," for all you couch potatoes this weekend. Enjoy.
Click here to have the print version of the Craig Daily Press delivered to your home.