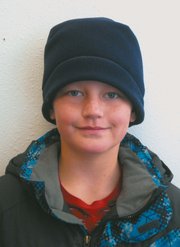 Age: 8
Sport: Ice skating
How did you get your start in your sport?
"One of my aunts took my family and after awhile I started getting good, so I kept with it."
In your sport, what would you like to improve on?
"I would like to learn how to go faster and be able to control it so I don't crash."
What is your favorite part of your sport?
"That you can go really fast so easily."
What do you feel is the hardest part about your sport?
"The ice is very slippery, so it can be hard to keep your balance. Sometimes you crash, but you just get up."
What other sports do you compete in?
"I have played basketball, football, soccer and even baseball."
Favorites
Snack: Granola bars
Movie: "I really like the Harry Potter series."
Color: Blue
Weekend activity: "I like to be outside sledding and I like to come ice skating."
Thing to do with friends: "Going sledding is a thing we do a lot."