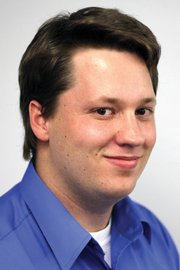 Business News Tips
The Daily Press wants to know what's happening at your business or place of
work, including promotions, new employees, transfers, awards, special deals, new products and more.
Send all your business news tips to Scott Schlaufman by e-mail at:
<
p>sschlaufman@cra...
>
Over the weekend, many people helped celebrate Moffat County's centennial.
But, that wasn't the only major anniversary in town.
Casa Loya, a family-run restaurant in Craig, celebrated its 10th anniversary with numerous specials.
Today is the actual anniversary of the restaurant's 2001 opening.
The restaurant features fresh made Mexican food including tamales, chile rellenos, tacos and burritos. It also has a self-serve salsa bar.
Stop by at 351 Ranney St., or call 824-5455.
Mountain West tabbed as advantage agent
Farmers Alliance Companies, a national insurance company, recently recognized Mountain West Insurance & Financial for being among the best agencies that it oversees.
Mountain West was named a Farmers Alliance Advantage Agent for 2011.
For an agency to get the title, it must exhibit superior professionalism and profitability over a five-year period, the company reported in a news release.
Mountain West also has locations in Steamboat Springs, Meeker and Durango.
Farmers Alliance has more than 600 agencies in eight states and primarily markets to rural areas.
Mountain West is located at 100 E. Victory Way or can be reached by phone at 824-8185.
Hayden Mat and Frame moves locations
Hayden Mat and Frame, a custom framing shop in Hayden, has moved just west to a new location at 175 W. Jefferson Ave.
The space is directly across from Hayden Town Hall and was previously occupied by Wolf Mountain Pizza.
The shop features handmade frames made by owner Jim Folley. The shop uses aged wood to give items a unique look.
The shop also makes items including coat racks, mirrors and shelves.
Hayden Mat and Frame can be contacted at 756-6288.
Click here to have the print version of the Craig Daily Press delivered to your home.