If you go ...
What: Moffat County birthday party
When: 2 to 5 p.m. Feb. 27
Where: Museum of Northwest Colorado, 590 Yampa Ave.
— The public is invited to celebrate the 100th anniversary of Moffat County separating from Routt County. Punch and cake will be provided.
— Three new exhibits are open at the museum, including "Moffat County – a photographic look at the First 25 Years," "The Moffat Loving Cup," and "The Marcia Car." The exhibits are open to the public.
If you go ...
What: Preserving the Last Frontier meeting
When: 1:30 p.m. Feb. 26
Where: Sunset Meadows I, 633 Ledford St.
—Moffat County Commissioner Tom Mathers and former commissioners T. Wright Dickinson, Dean Visintainer and Neil McCandless will each retell 25 years of Moffat County's history. The meeting is open to the public.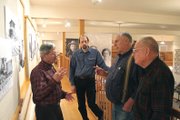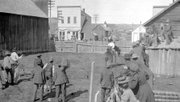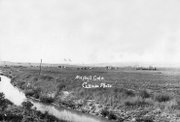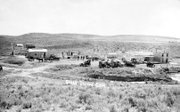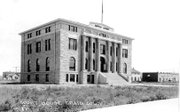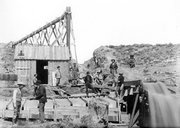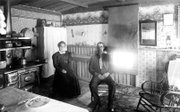 David Moffat never stepped foot inside the county that would eventually bear his name.
In fact, the industrial tycoon wasn't much concerned with the area.
Rather, he merely wanted his railroad to pass through Craig on its way to Salt Lake City. But, the endeavor left Moffat nearly broke and halted the line in Craig.
On Feb. 27, 1911, Moffat County was officially established and named in his honor.
Moffat died just three weeks later and three years before his railroad reached Craig.
An editorial in the Routt County Courier from January 1911, however, explained that Moffat's railroad was "the most stupendous piece of railroad architecture ever carried out in Colorado and it has done more to develop this part of the state than any one other thing that ever happened."
This month, Moffat County will turn 100 years old and its residents will host various forms of celebrations to commemorate the event and the county's history, including museum exhibits and historical meetings.
Dan Davidson, director of the Museum of Northwest Colorado, said Moffat County would simply not exist today without Moffat's railroad.
One hundred years of local history might not have taken place without that critical piece of infrastructure, he said.
"It's the single largest driving force to the historical and current economic issues within the county," he said. "I don't think there is anything comparable to it. In fact, it caused every one of the economic booms we have had."
Shortly after being established, the county saw a homesteading boom fueled by the railroad stopping in Craig after Moffat's death and supplied by a number of westward moving World War I veterans, Davidson said.
Growth continued throughout the area, fueled by the railroad and a desire to live an agricultural lifestyle. The area continued to grow until the Great Depression forced many landowners to abandon the area they came to know as home. But, the few that were able to stay were those who lived in the low lands and places that could be easily irrigated, Davidson said.
Those surviving ranches began to spread out and more land was purchased as a result. The period also marked the entrance of the still prevalent sheep industry in the area. At one point during the 1950s, Davidson said, Craig became the largest wool shipping point in the world.
After World War II, traffic through the county on U.S. Highway 40 increased, leading to a number of developments in Craig and other places in the county.
During that boom, a town previously known as Baxter Springs developed into Artesia and would later become known as Dinosaur. The town made its living as a supply point for the Rangely oil and gas fields, Davidson said.
The declining sheep and wool industry was soon supplemented with a large amount of wheat farmers moving into the area east of Craig. Through the early 1970s, the county experienced slow but steady growth. But, Davidson said, construction of the local power plants and coal mines resulted in a population boom not seen since the homesteading days, he said.
The once agriculturally dominated county changed into a community heavily vested in the coal and natural resource extraction industries. After the second great bust of the early 1980s that saw massive home foreclosures in Craig and the surrounding area, the area has continued to slowly grow, Davidson said.
Lou Wyman, a lifelong Moffat County resident and owner of Wyman Museum, thinks the county's upcoming centennial is an important milestone for residents to observe.
"I'm not sure they knew how it would turn out when they started the thing a hundred years ago, but they must have thought it would work," he said with a laugh.
Wyman believes the reason for the creation of Moffat County, which was previously part of Routt County, was more than just political arguments over where the county seat would be located.
"They were a different breed than up in Routt County or on down somewhere else — they needed their own place," he said of Moffat County residents.
Neil McCandless, a former Moffat County Commissioner, said things were a little bit simpler when he grew up in the Craig area.
"I always say now that I grew up in the best time of all," he said, remembering the times he would often walk to the river to wet a fishing line after school.
"In the 30s and 40s, I think people were leaving," he said. "But then after the 50s, people started realizing small towns are a good place to live and they started coming back."
Wyman said as the county matured, those living in the area started taking pride in their county's spirit.
"I think of Moffat County as more of a working person's community and area, Craig in particular, and all of the outlying areas from Maybell out to Dinosaur," he said. "They just don't act or respond the same … it's a different cultural atmosphere."
Wyman said there were many lively and memorable "characters" he knew growing up, but many of them aren't around anymore.
"There was some old-time people, maybe there still is now, that never took a bath and lived out in the country," he said. "One old guy, who lived out north, drove a tractor to town because he didn't have a car. I guess you could call that just getting by."
Mary Lou Allen, president of Preserving the Last Frontier, a local historical group, said residents need to remember the people who "made this county what it is today" during the centennial.
Allen contends the people who shaped Moffat County weren't always the characters, politicians or even those living in town.
"This county is vast and there were people living way out and they had to endure the trials and tribulations of the vastness of this county," she said. "They endured and I think they are just as important in the making of this county as anyone else."
Allen said Moffat County has become a place that attracts a certain type of person.
"Some people can't adapt to this," she said. "They need people, they need shopping malls, while others have more of a sense of freedom and like the solitude, the openness, the ruggedness of the area."
Davidson said the county's economic cycles, weather, environment and a number of other factors created an individualist's mindset among those who homesteaded here. That mindset is still alive today, he said.
McCandless agreed, adding the county still has a Western, "self-reliant attitude."
"If things were tough, they worked hard and when times were good they had a good time," he said.
Davidson was quick to point out that without Moffat's railroad, however, the attitude, people and places that Moffat County is today would have been vastly different.
From receiving the lumber to build the homesteads in the area, to shipping the county's wool and grain exports and bringing in the parts to build the power plant and sustain the area's coal mines, the railroad made Moffat County and brought its critical founders here, Davidson said.
"I would say that's why he did it," Davidson said of Moffat building the railroad. "I think he wouldn't have been surprised by it at all."