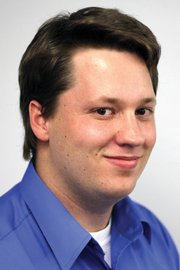 Business News Tips
The Daily Press wants to know what's happening at your business or place of
work, including promotions, new employees, transfers, awards, special deals, new products and more.
Send all your business news tips to Scott Schlaufman by e-mail at:
<
p>sschlaufman@cra...
>
Those looking to get a tan in a hurry have a new local option available.
Sunless Spa, which opened nearly two months ago inside Wildflowers Salon at 1596 W. Victory Way, offers an automated spray tan booth at an affordable rate.
Sunless Spa owner Erica Stewart said the walk-in machine takes only five to 10 minutes to use and offers privacy that other spray-on tan services don't.
Additionally, she said, there is a lack of the health risks associated with tanning in an ultraviolet bed.
Each session costs between $20 and $30, and discounts are available for first-timers. There are also packages available offering multiple sessions at a discounted rate.
Walk-ins are welcome and appointments can be made for times when the salon is closed.
Corey Electric offers infrared technology
Corey Electric, Inc., recently added infrared inspections to its list of services.
The company, which has been in Northwest Colorado since 1976, now has the ability to detect things such as water leaks, inadequate insulation, mechanical and plumbing defects, roof leaks, electrical issues, and more.
Several local businesses changing locations
U-Care Health Screenings, which offers preventative health screenings, recently moved from its location at 11 Victory Way to a space inside Holistic Health & Fitness, 420 Breeze St.
Owner Mary Blakley said the move makes the business more accessible to patients, who will no longer have to walk up a large set of stairs as they did at the previous location.
U-Care is joined at Holistic Health & Fitness by The NutriTherapy Center, which also moved from its location on Victory Way earlier this year.
For the Health of It, a weight loss clinic, has moved out of Holistic Health & Fitness and into its own space at 109 W. Victory Way, near H&R Block.
The space was formerly occupied by Blevins Electronics.