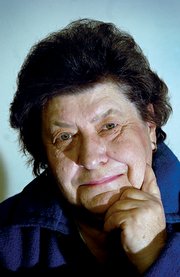 Chicken Enchiladas
12 corn tortillas
4 cups diced, cooked chicken
2 (10 ½-ounce) cans cream of chicken soup
1 (4-ounce) can diced green chilies
1 pint sour cream
1 small bunch green onions and tops, chopped
1 pound cheddar cheese, shredded
Warm tortillas in the microwave until soft. Prepare the filling by mixing together the chicken, chilies, soup, and sour cream. Place 2 tablespoons of filling, 1 teaspoon cheese, and 1 teaspoon green onions on each warm tortilla. Roll each tortilla and place seam down in a greased 9x13-inch casserole dish. Pour remaining filling over the top of the tortillas. Sprinkle with remaining cheese. Cover with foil and let set in the refrigerator for 24 hours. The next day, bake the enchiladas for 1 to 1 1/2 hours at 350 degrees, until they are bubbly. Serves 8 to 10.
This morning, over a cup of coffee, I thought about what I was going to cook for dinner. Maybe it's just these snowy, can't-get-out-and-do-things days, but I can't even think what I'm hungry for.
So, I went through my files and came up with "Chicken Enchiladas." I haven't made them in awhile (maybe because I have to cook, bone and chop up the chicken, first).
To make these "Chicken Enchiladas," you will need: 12 corn tortillas, 4 cups diced cooked chicken, 2 (10 1/2-ounce) cans cream of chicken soup, 1 (4-ounce) can diced green chilies, 1 pint sour cream, 1 small bunch of green onions and tops (chopped), and 1 pound of cheddar cheese (shredded).
First, warm the tortillas in the microwave. The original recipe suggests placing the tortillas in a damp towel. However you do it, microwave until the tortillas are soft.
Make the filling by combining the chicken, soup, chilies and sour cream. Place 2 tablespoons of filling, 1 teaspoon of cheese and 1 teaspoon green onions on a warm tortilla. Roll tortilla. Place seam down on a greased 9x13-inch casserole dish. Roll all of the 12 tortillas in this manner. After you have placed them all on the dish, pour the remaining filling over top. Sprinkle with the remaining cheese. Cover the dish with foil. Let stand in the refrigerator for 24 hours.
The next day, preheat the oven to 350 degrees. Bake the enchiladas for 1 to 1 1/2 hours or until bubbly. Serve with lettuce salad.
For our family, this is a good dish to pop in the oven an hour or so before hungry people come in from branding or working cattle (except that I'd have to double the recipe).
This week's column ends with a couple of notes about recipes that have appeared in the column the past two weeks.
First, a note about "America's Best Bread" that appeared last week. I've been getting calls to clarify the amount of flour used in the recipe. You will need to mix 2 cups of whole wheat flour and 2 cups of white flour into the other ingredients listed at the top of the recipe. When these are mixed, you will gradually add 10 more cups of white flour. If you have questions, please call me.
The other note is about the "Crispix Mix". I made the mix on Sunday, using the oven method adapted by Betty Ann Duzik. The mix is very good.
I thought I might suggest that you use a very big bowl when mixing the syrup into the Crispix. I used a big bowl, but even then I had cereal on the floor.
Also, after I cooked the syrup (brown sugar, butter and Karo) for 5 minutes, it was quite thick and I had to hurry to get it mixed up into the cereal. (I had to soak the pan and spoon, too.) But it's a great treat!
Thanks again to Betty Ann Duzik and Meriam Zimmerman.
If you have recipes you'd like to share, call me at 824-8809 or write to me at PO Box 415, Craig, CO 81626.
Click here to have the print version of the Craig Daily Press delivered to your home.