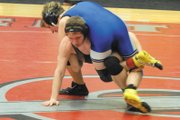 Results
Individual Moffat County High School varsity wrestling team results from Friday's 4A regional tournament:
(Name — weight — record — current standing)
• Owen Nichols — 103 — 1-1 — third-round consolation
• Cody Nelson — 125 — 2-0 — semi-finals
• Brayden Peterson — 130 — 1-2 — out
• Garrett Stewart — 135 — 1-1 — third-round consolation
• Kye Adams — 140 — 1-2 — out
• Jake Blevins — 145 — 0-2 — out
• Charlie Griffiths — 152 — 2-0 — semi-finals
• Dru Nielson — 160 — 1-2 — out
• Kolten Wickham — 171 — 0-2 — out
• Cody Adams — 189 — 1-0 — semi-finals
• Ben Winslow — 215 — 0-1 — first-round consolation
• Bob Myers — 285 — 0-2 — out
— MCHS lost 48-28
Cody Nelson, a Moffat County High School senior wrestler, fell to the ground Friday at Mesa State College.
He wasn't drowning in sorrow over a loss or soaking in the excitement of a victory.
Nelson was exhausted because he fought his way back in the third period of his second round match at the 4A regional wrestling tournament.
The MCHS senior said he pushed his Canon City opponent to the point he had no energy left.
"I don't think I am in bad shape, but I had to push my opponent to tire him out, and it tired me out in the process," Nelson said. "It is my final season and I knew I had to push to continue wrestling."
It all paid off, however, as Nelson was able to force overtime and nail a takedown to advance to today's semi-finals with a 7-5 victory.
Trailing 4-3 after the second period, Nelson scored two points in the third off of stalling calls on his opponent.
"I think I wanted it more," Nelson said of his match. "It was definitely a tough match, but I was able to force overtime and get the takedown."
Nelson will face the number one wrestler in the 125-pound weight class, Geordon Hudson of Montrose, first thing today.
The two wrestlers wrestled in their sophomore year with Hudson escaping with a narrow 4-3 victory.
Learning from the previous match, Nelson said he thinks it should be one of the best matches in his weight class.
"(Hudson) may have changed a little, but I don't think it will be that much, so I can expect similar things," he said. "I will have to push him and any other opponent I have to make it to state."
Nelson said today is when the studs come out, and five of his Bulldogs teammates will join him on the second day of the regional tournament.
Freshman Owen Nichols (103 pounds) and sophomore Garret Stewart (135 pounds) will compete in the third round of the consolation bracket and senior Ben Winslow (215 pounds) will wrestle in the first round of the consolation bracket.
Seniors Charlie Griffiths (152 pounds) and Cody Adams (189 pounds) will join Nelson in the semi-finals.
Head coach Roman Gutierrez said his team wrestled as well as they could.
"We lost half our guys today, so we will have to keep fighting," he said. "Our conditioning is great and the guys are going to have to keep pressure on their opponents and push and push them."
Gutierrez said for the guys whose season is done, they have to keep working in the offseason.
"There were some good things today, but there are still areas guys need to work on to be where they want to be," he said. "A lot of wrestlers need to learn to finish matches and not give up points at the end of periods."
As for the guys who will make their final push for the state meet, Gutierrez said focus would be key.
"Hopefully, we can get in the positions we want to be in," he said. "They have to believe in themselves and stay focused on what's ahead."
Nelson said he truly believes he will advance to the state meet.
"I go into all my matches and give it my all," he said. "This is my year."
Click here to have the print version of the Craig Daily Press delivered to your home.