Photo Gallery
2011 Science Olympics Cardboard Sled Races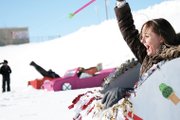 Winners of the 2011 Science Olympics Cardboard Sled Races at Moffat County High School:
• Greatest Distance — Coconut by senior Velvet Warne and junior Aime Chadwick
• Most creative — Chip by seniors Kellie Looper and Kaci Meek
• Best Design — Pink Hippie Car by freshman Alanna Walters
• Epic crash — Redneck Express by freshmen Cade Bangs, Cody McDermott and Trenton Alexander
With temperatures hovering around zero, Wednesday was an unlikely day for Hawaiian leis.
Nonetheless, two Moffat County High School students donned the faux flower garlands before embarking on a winning run at the 2011 Science Olympics Cardboard Sled Races on the high school grounds.
Senior Velvet Warne and junior Aime Chadwick piloted their tropical-themed cardboard creation, which they named Coconut, through several inches of fresh powder — and even caught some air — in their winning pursuit for the greatest distance.
Warne and Chadwick led a field of 46 students — 16 teams in all — in a race that began several weeks earlier with the design and construction of cardboard sleds.
MCHS science teacher Heather Fross explained.
"It's required for the students in advanced science topics," Fross said of the event. "And, students in other classes can do it, too. Some teachers give extra credit for doing it. Other kids do it just for fun."
The rules are simple.
Sleds can be constructed of cardboard, duct tape, glue, paint and rope. Bottoms of the sleds can be covered by plastic sheeting.
No metal or wood can be incorporated into the design.
Senior Kellie Looper said she and teammate Kaci Meek built their sled over several weekends.
Their entry, Chip — which was inspired by the namesake character in Walt Disney's "Beauty and the Beast" — took the prize for the most creative sled. It was shaped like a teacup.
Looper said she didn't believe her design had a good chance of finishing the race.
"We thought it was going to stop because it's circular," she said. "We thought we'd have to tip it on its side and roll it down the hill."
Instead, Chip cruised to the bottom of the hill at a surprising clip.
Last place went to Redneck Express, helmed by freshmen Cade Bangs, Cody McDermott and Trenton Alexander.
Their sled broke apart at the starting line. However, the team took the short performance in stride.
"As long as you're having fun, that's all that matters," Bangs said.
Upon learning that Redneck Express won the category for epic crash, the team let out a joyous shout.
A sled named Pink Hippie Car was designed, built and driven by a lone student — freshman Alanna Walters.
The sled, designed like a Barbie Dream Car, featured lifelike dashboard and engine graphics and a Plexiglas windshield.
Walters was awarded best design.
"I thought it was pretty cool," she said of the event.
She plans to enter her sled into the cardboard box derby Feb. 19 at the Wyman Museum's Winter Festival.
Regarding their winning performance, Warne and Chadwick said they were surprised.
"It feels pretty good, because we weren't going for anything," Warne said.
"We just wanted a grade," Chadwick said. "That was about it."
Click here to have the print version of the Craig Daily Press delivered to your home.