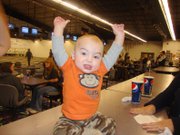 The Landon M. Hatcher Benefit Donation Fund, an account established to help pay for the baby's rising medical costs, is set up at Wells Fargo Bank. For more information, call Terrie Hatcher at (970) 618-1760.
Craig resident Terrie Hatcher said her family is in the midst of an extremely difficult time.
"It's been the hardest thing we've had to go through in our entire lives," Terrie said. "There could be nothing worse than to see a baby go through this."
The baby, 10-month-old Landon Hatcher, is Terrie's grandson. Landon has been diagnosed with a brain tumor.
The family's ordeal began Jan. 26 with a seemingly routine trip to a pediatrician's office at Yampa Valley Medical Center in Steamboat Springs.
"We thought he had an ear infection," Terrie said. "The doctor said, 'No, something isn't right.'"
A CT scan revealed a three-inch tumor near Landon's brainstem.
The boy was taken to Children's Hospital in Denver, where an 8-hour surgery was performed the next day.
"They did surgery and they got 80 percent of the tumor," Terrie said. "It was right next to the brain stem, so it was a very intense surgery.
"We were scared out of our minds."
A pathology report revealed Landon has anaplastic ependymoma — a fast-growing, malignant cancer.
A second surgery is scheduled for Wednesday.
"They're going to do another surgery to remove the rest," Terrie said. "And after that, they're going to do six weeks of radiation treatment every single day.
"That poor baby has to go through that."
Terrie said the doctors have given Landon an encouraging prognosis.
"They said there's a 70 percent chance that he will survive with this, so we're holding on with every bit of hope," Terrie said. "We're praying."
Adding to the family's troubles are the rising medical costs associated with treating Landon.
Landon's parents, Craig residents Chris and Amber Hatcher, don't have health insurance, Terrie said. The hospital bill for the first two days alone is estimated at $80,000.
Costs are expected to increase, Terrie said.
"He's been in ICU every single day, so it's going to be astronomical," Terrie said. "I can't even imagine how expensive it's going to be."
To help with medical costs, Terrie and her husband, Ron Hatcher, have set up a donation account through Wells Fargo Bank.
Terrie said making a donation is easy.
"All they have to do is go to any Wells Fargo Bank and write a check to the Landon M. Hatcher (Benefit Donation Fund)," Terrie said. "If they have any problems, just call me."
Terrie said her grandson is unique.
"He's just so sweet and fun-loving, and he always smiles," Terrie said. "You know how some babies just cry and cry and cry? Not him. He's always happy. And he was happy the day he went into the hospital.
"He's just a very, very happy baby."
For more information on donating, call Terrie Hatcher at (970) 618-1760.
Click here to have the print version of the Craig Daily Press delivered to your home.