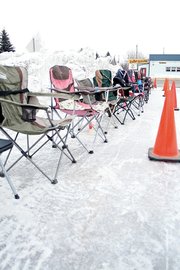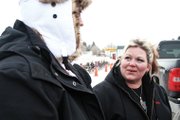 Ticket info
Tickets to the Kiwanis Club play are still available for both the March 4 and 5 performances. To purchase tickets, call Bo Lyons at Severson Supply & Rental at 824-9481, or contact any member of the Kiwanis Club.
At 5 p.m. Friday, tickets for the annual Kiwanis Club play were officially up for grabs.
However, a line to purchase tickets took shape more than a day earlier at the J.W. Snacks parking lot on the southwest corner of East Victory Way and Tucker Street in Craig.
By mid-afternoon Friday, more than 20 area residents had gathered under a cold, cloudy sky to wait for the ticket sale to begin.
It wasn't a typical line.
Instead of lining single file at the door of J.W. Snacks, roughly half of the ticket-seekers circled a folding table to throw bones.
The game was Left Right Center. The buy-in was $3. Each pile of bills was secured to the table by open cans of domestic beer.
Craig resident Lynnette Long said she'd been waiting in the parking lot since 8 a.m. Friday.
Long was 15th in line for tickets — her spot was reserved by an empty lawn chair in a long line of other empty chairs on the north side of the parking lot.
Long said she didn't mind the cold weather or the long wait.
"Everybody needs their dose of vitamin D in the middle of winter," she said.
She also said everybody needs "vitamin B."
"Beer," she said, holding a can aloft.
The order of chairs was loosely policed by Kiwanis Club member Mike Butler.
Butler said the people in line had remained civil.
"We're all good," he said.
The annual Kiwanis Play, which lampoons community residents and events from the past year, is scheduled for March 4 and 5 at the Moffat County Fairgrounds Pavilion.
The play is in its 65th year.
Butler said the line to buy tickets is also a yearly event.
"For a lot of people, it's tradition," Butler said. "And, it's during the winter when people are feeling down about the weather, so it's a pick-me-up."
Katrina Baker, who was 14th in line for tickets, said she has been attending both the play and the ticket line for years.
"We look forward to the first weekend in February and the first weekend in March every year," Baker said.
George Kidder, who was fourth in line, said the play and the line have become inseparable.
"This is part of the show," Kidder said. "This is fun."
Kidder, who plays Santa Claus at various area events during the Christmas season, said he has never been satirized during a Kiwanis performance.
"You just gotta be careful during the year to not do anything that's going to draw attention to you, because it'll end up in here," Kidder said of the play.
Butler would offer no hints as to what subjects might be acted out on stage in March.
"All I can say is whatever happened in the last year is fair game," Butler said.
Butler's wife, Annabelle, said even she doesn't know what Kiwanis Club members are planning.
"It's top secret," she said. "I know nothing."
When the round of Left Right Center came to an end, Long victoriously held up her winnings — a loose wad of 30 single dollar bills.
Then, she divided up the winnings among all the players so they could buy-in for the next round.
"It's not about taking the money home," Long said. "It's about staying and playing."
Click here to have the print version of the Craig Daily Press delivered to your home.