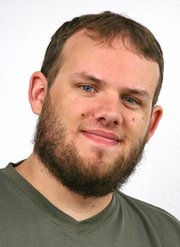 Weekend movie show times
West Theatre
29 E. Victory Way
824-2000
• "Sherlock Holmes: A Game of Shadows," PG-13; 7 and 9:05 p.m. Fri. and Sat., 4 and 7 p.m. Sunday
• "We Bought A Zoo," PG; 7 and 9:05 p.m. Fri. and Sat., 4 and 7 p.m. Sunday, 7 p.m. Monday and Tuesday
• Tickets: $7 for ages 10 and older, $5 for ages 9 and younger
• Sunday matinee: $5 for ages 10 and older, $4 for ages 9 and younger
Submit your event
Submit your event's details for consideration by emailing me at mballeck@craigdai... or calling 875-1790.
Hopefully your Christmas was filled with fun and plenty of heartwarming moments, whether you were watching your kids rip open their presents or camped out in front of the tube for the annual viewing of "It's a Wonderful Life."
Now that the cuddly family part of December has come and gone, it's time to party hearty for us adults.
Finish 2011 in style with any of the many shindigs happening around town Saturday night.
■ Toast the end of the year and the start of 2012 with a glass of champagne at The Popular Bar, 24 W. Victory Way.
The establishment will be stocked with bottles of bubbly throughout the night.
If that's a tad fancy for your palate, they will also offer specials on other drinks in addition to offering party favors and giveaways.
There is no cover charge for the night's festivities.
Call 824-6234 for more information.
■ If dancing is more your preference, strap on your most styling kicks for the get-together at Mathers Club, 420 Yampa Ave.
Dance the night away to the sounds of one of Craig's favorite bands, Cabin Fever, of Olathe.
There is a $5 cover charge for the night's entertainment, but the bar will also have a plentiful supply of party poppers, so get your money's worth.
For more information, call 824-9946.
■ There's no better time of year to indulge in a good meal, and two local restaurants will be serving up some delectable dishes along with the rest of Craig's culinary scene.
Stop by The O.P. Bar & Grill, 534 E. Victory Way, for a sumptuous selection of steak and shrimp dinner specials with generous portions of both surf and turf.
Patrons will also be serenaded with live music from Four to Play.
For more information, call 824-8918.
If a quieter atmosphere is more to your liking, take in the juicy prime rib special at J.W. Snack's Bar & Grill, 210 E. Victory Way.
The Cajun style eatery will also have deals on drinks as the night goes on.
For more information, call 826-0468.
■ On a serious note, please remember to handle your partying in moderation. The last thing you need after a fun night on New Year's Eve is to wake up in the hospital or jail on New Year's Day.
Plan ahead for the night, and if you need a ride, keep in mind that even a small town like Craig has someone you can call.
Contact All Around Taxi at 824-1177 or the new Craig Taxi service at 824-1998.
■ West Theatre will hold over "Sherlock Holmes: A Game of Shadows" and "We Bought a Zoo." If your interests lie in detective stories or watching dozens of animals, don't waste any time getting a ticket.
Your stocking may have been stuffed with plenty of DVDs like mine was, but there are always more to add to the collection. New entries this week include "Final Destination 5" and the Romanian "Tuesday, After Christmas."
Redbox catches up with delayed release romances "One Day" and "The Art of Getting By," as well as the goofy "A Good Old Fashioned Orgy" and the science fiction horror show "Apollo 18."
Since this is the last column of the year, allow me to prematurely wish all our readers a Happy New Year, and we'll see you in 2012.
Click here to have the print version of the Craig Daily Press delivered to your home.