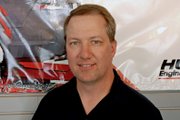 Quotable:
"It's not just about tractors. It's about many facets of hands-on career development."
— J.B. Chapman, co-owner of Chapman's Automotive, on the Moffat County High School vocational ag and FFA programs
When asked what motivated him to sell $3,400 worth of fruit and other assorted goodies in three days, Cody Cox's answer was simple.
"Tires," said Cox, a Moffat County High School senior.
Specifically, four BFGoodrich all-terrain K/O tires, donated by Chapman's Automotive and American Tire Distributors.
Cox earned the new set of wheels for being the top seller in an annual fundraiser for the high school's FFA program. He's a four-year member of the program and has participated in the fundraiser before, but for the last three years, his sales usually added up to $50 or $60, "nothing like this," he said.
The tires, he said, made the difference.
"Tires on my truck are expensive, so I figured it was worth it," he said.
Between school and work, Cox spent four to five hours a day selling.
He didn't know exactly how many sales he made, but he estimated he sold to 100 to 150 people.
Chapman's Automotive helped provide the tires as an incentive for the fundraiser this year, said J.B. Chapman, who co-owns the Craig company with his wife, Paula.
"To keep these kids active and motivated in this program is very important to Paula and I," Chapman said.
Chapman has reason to be interested in the program's future. He's an MCHS alumni and was involved in the school's FFA and vocational ag programs.
"I am a product of Moffat County FFA and the (vocational ag) department, and any of our successes in business, some way or another, are tied to this program, and it's near and dear to our heart to support it," Chapman said.
Their children — Natasha, 22, and Nathan, 18 — also participated in FFA and the vocational ag program before graduating and going to college, he said.
"It's very important to our community to have this program," he said. "The vocational department at Moffat County High School is vital to our service industry in Moffat County."
Chapman believes students ultimately benefit from the FFA and vocational ag programs, even if they choose not to pursue a career in agriculture.
"It's not just about tractors," he said. "It's about many facets of hands-on career development."
Click here to have the print version of the Craig Daily Press delivered to your home.