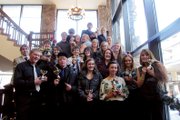 At a Glance …
• Moffat County High School to send 21 Distributive Education Clubs of America participants to state competition in February.
• MCHS teacher: The group is the largest she's ever taken to state.
• Students qualified by taking top slots at previous DECA competitions or by preparing manuals on topics including advertising and sports promotion.
Moriah Mecham faced a perplexing problem earlier this month.
She was a marketing manager for a potato chip company that faced lagging sales with the younger market, and her task was to find a way to make the snacks appealing to the demographic.
In theory, anyway.
Mecham, 14, is a Moffat County High School freshman, and the above scenario was a hypothetical situation posed in one of two role-playing assignments during a Distributive Education Clubs of America district competition Dec. 4 and 5 in Aspen.
Her role-play performances helped her qualify for a state event Feb. 25 through 28 in Colorado Springs.
Of the 26 MCHS students who participated in districts, 21 of them earned a state berth, said Krista Schenck, MCHS business, marketing and technology teacher.
"I was very impressed by our team for having so many place in the top of their event," she said.
The team will be the largest one she's ever taken to state.
Mecham had a feeling she would do well in her event.
"I've never done that good before," she said of her performance at districts.
When it came time to name the top district finishers, she wavered between hope and doubt, not sure if she did well enough to qualify for state.
Then, her name was called, and she was ecstatic.
"I got all excited," she said.
Sophomore Elisa Teeter, 15, also is going to Colorado Springs. She wrote an advertising campaign, one of several manuals students can write to qualify for state.
Teeter's campaign is tailored for a mortuary, and it proposes placing notices for its services in everything from church bulletins to local newspapers.
Teeter's choice of business may seem odd, but it gives her an edge by making her work more noticeable, she said.
"No one would ever do a mortuary," she said.
Because this is her first time going to state with a manual, she's not sure what to expect, she said.
If it's anything like last year's state competition, in which she competed with the Quiz Bowl team, she thinks it will be a worthwhile experience.
"It was just a great time last year," she said.
Click here to have the print version of the Craig Daily Press delivered to your home.