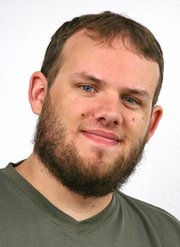 Movie at a Glance ...
"The Twilight Saga: Breaking Dawn — Part 1"
2.5 out of 4 stars; 117 minutes.
Starring: Kristen Stewart, Robert Pattinson, Taylor Lautner and Peter Facinelli.
Now playing at the West Theatre and at Steamboat Springs' Carmike Chief Plaza 4.
At one point or another during pregnancy, every expectant mother jokes that the new life growing inside her is trying to kill her.
In "The Twilight Saga: Breaking Dawn — Part 1," this mommy is right on the money.
The time has come at last for the wedding of Bella Swan (Kristen Stewart) and her vampire soul mate, Edward Cullen (Robert Pattinson). As preparations are made for her to walk down the aisle, Bella can't help but marvel at what the future will hold, a baffling concept since the phrase "Till death do we part" will have no significance once Edward brings her into his family as a bona fide vampire, with immortality only one of the perks.
A honeymoon on a private South American island sets the tone for an amazing life together. That is, until an uninvited guest changes everything.
When Bella discovers she's pregnant only days after their wedding night, Edward realizes they've created something entirely new: a creature that comes into the world as a vampire.
With the unborn child already draining Bella's life force from the inside the couple is forced travel back home for medical help, but the danger is even greater back in Forks, Wash.
Despite protests from Bella's spurned ex-boyfriend and shape-shifter Jacob Black (Taylor Lautner), the members of his wolf pack insist that the new life that's about to come into the world must never see the light of day, leaving their truce with the Cullens up in the air.
Stewart's never seemed entirely at ease playing Bella, relying more on aloofness and facial expressions than digging in for the role that has made her a star. At least she can finally put those anguished looks to good use as she starts to resemble a frail Mia Farrow in "Rosemary's Baby," unsure what might pop out of her and if she'll even survive.
Pattinson also has a better grasp on his character, feeling extreme guilt over his whole wedding, terrified at the prospect of bringing pain to his new wife and shamed at providing the DNA for the unseen thing that's sucking her dry.
And you dads thought you had it rough for nine months.
Lautner manages to keep his shirt on long enough to have some good moments as Jacob, who swears his allegiance in protecting Bella from his furry kin while still being at odds with the vampire household where she's holed up.
While certain cast members like Ashley Greene — who can't get enough screen time as Edward's clairvoyant sister Alice — are downplayed, some of the red-eyed Cullen actors get more of a focus than they have in previous installments, such as Edward's surrogate parents Carlisle and Esme (Peter Facinelli, Elizabeth Reaser), and burly older brother Emmett (Kellan Lutz). Nikki Reed is at her best yet as sister Rosalie, who's never cared for Bella but suddenly takes a great interest in her.
Or at least her uterus.
The penultimate "Twilight" film is one of the bloodiest so far, though not beyond what's going on in Bella's belly or in her nightmares. With Edward's clan's vegetarian leanings, you knew that already.
By now, viewers have come to expect that teen drama is the best action we can expect from these movies, with the possible exception of a vampire/werewolf showdown. And, what could be more dramatic than an unplanned pregnancy that could herald a new age in vampirism?
For something that so many Twi-hards have been looking forward to, the whole wedding scene blows by faster than you'd expect. If you considered William and Kate tying the knot to be overhyped, just wait.
Plus, the doozy of a wedding night is downright ludicrous once you see the couple's bedroom looking like a tornado went through it. The subtext behind the pseudo-debate about abortion isn't exactly fleshed-out either, but you have to pick your battles.
At least "Twilight" fans will enjoy seeing everything come to fruition, romance-wise before the big finale. Hey, you knew going into it that it's a series strictly for the fans.
The downside — or upside, depending on your taste — of "Breaking Dawn — Part 1" is knowing that there's another part of "The Twilight Saga" coming. Imitating the cliffhanger of the seventh "Harry Potter" movie is a good move in terms of story, even if one deathly pale man at the end of one film is vastly more intimidating than three in another.
Now playing at the West Theatre and at Steamboat Springs' Carmike Chief Plaza 4.
Click here to have the print version of the Craig Daily Press delivered to your home.