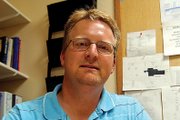 At a Glance …
• Travis Jensen, a former assistant principal at Moffat County High School, resigned Friday.
• Jensen is no longer at MCHS. His resignation is pending formal school board approval.
• Administrators will decide how to handle the vacancy after winter break.
• Superintendent: Jensen resigned for "personal and family reasons."
Moffat County High School will be short one of two assistant principals at least until after the New Year.
That's the earliest school administrators will begin looking at how to address the vacancy created by Friday's resignation of assistant principal Travis Jensen, MCHS Principal Thom Schnellinger said.
The options include advertising for a replacement and looking for an interim replacement.
"As I spoke to it with my staff, we will answer those issues coming out of the winter break," Schnellinger said.
Winter break runs from Dec. 22 through Jan. 4.
Jensen served as assistant principal at MCHS for nearly five years.
The Moffat County School Board is scheduled to formally decide on his resignation during its Dec. 13 meeting.
Schnellinger and superintendent Joe Petrone declined to discuss specifics of Jensen's departure, saying they weren't able to elaborate on personnel matters.
"Travis Jensen resigned for personal and family reasons," Petrone said.
"That's as much as we'll say about a personnel issue."
Jensen stepped into the position in 2006, following a move to Craig from Twin Falls, Idaho.
He arrived with a decade of educational experience, including teaching physical education to elementary and eighth-grade students, as well as coaching varsity tennis and freshmen football.
The assistant principal position at MCHS mainly includes handling disciplinary issues, Schnellinger said.
"(Assistant principals) also take on a variety of ad hoc duties in the area of instructional leadership," he said.
Schnellinger and Jeff Simon — MCHS assistant principal and athletic director — will take over Jensen's duties until a decision is made about how to address the vacancy.
"Mr. Simon and I are holding down the fort as best we can, and we're doing OK," Schnellinger said.
Click here to have the print version of the Craig Daily Press delivered to your home.