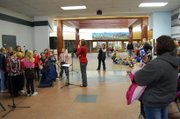 Totals ...
13th annual KRAI Holiday Drive fundraising totals:
• Christmas for Kids — $6,374
• Christmas for Seniors — $6,433
• Advocates-Crisis Support Services —
$5,523
• Interfaith Food Bank — $5,868
• Total: $24,198
— KRAI will continue to accept donations, as will the four community groups. For more information on how to donate or contact any of these charities, visit www.krai.com/holi..., or call 824-6574.
Boxes of Ramen noodles, piles of stuffed animals, personal checks and cash.
Every little bit helps when you're collecting for charity, and the people of Craig made their goodwill known Thursday and Friday afternoon.
The 13th annual Holiday Drive, hosted by radio station 93.7, 102.3 KRAI and 55 Country, brought in $24,198 to benefit the less fortunate in Northwest Colorado.
Donated money overflowed from collection envelopes, as did toys and nonperishable food items brimming from the beds of pickup trucks parked in front of Centennial Mall.
The endeavor was rough going as it began, with donations on the small side the first day.
"It's been a little bit light today," KRAI owner Frank Hanel said Thursday afternoon. "We're a little bit concerned from the standpoint that we like to get half of our donations on the first day, but it doesn't always happen that way.
"We're getting less toys than we expected and the biggest issue is that demand is up when giving is down, which is always part of a tough economic cycle."
No one was more pleased than Hanel when his prediction that Friday's activity would be bigger came true.
While the weather started to turn colder and snowier, crowds turned out more and more to pitch in, with their financial contributions — many of which were at the last minute — putting the total raised more than $1,000 beyond 2010's $23,000.
The Holiday Drive's intake of funds has ranged from a low of $17,000 to a high of $30,000. "People are always incredible," Hanel said. "We've had some huge donations and lots of small ones, and that's pretty much the way it is every year. I'd love to have a lot of people put in $20. It's affordable, and it makes a difference if you gang up on it."
The money and items collected benefit Christmas for Kids, Christmas for Seniors, the Interfaith Food Bank and Advocates-Crisis Support Services.
Organizers were unable to get an accurate count for toys and food items, but the results were comparable to last year, when more than 2,000 toys were accumulated.
Amber Kawcak, a Christmas for Kids organizer, was surrounded by bicycles, board games and plenty of other donated children's items.
"Today's been great, I feel so grateful," she said. "I've got a lot of helpers this year, and I think we're doing OK."
Kawcak said the generosity of people in the region will make many kids whose families have been facing hardships very happy.
Shopping for just the right toys can be tricky.
"Right now, I'm mainly after cash for things for special needs children on the list," she said. "They're not the kind of things that usually get donated, so I could use the money for that."
Among the people of all ages helping out were members of Girl Scout Troop 202, who promptly dropped off their donations after a shopping spree at Dollar Tree.
Troop leader Cassia McDiffett said her girls were more than willing to participate.
"It was a lot of fun watching them shop," she said. "They were conscientious about what they chose and picked out things they would have liked to get."
Burke Henderson, 10, purchased a coffee mug and scrapbooking supplies to add to the pile for Christmas for Seniors, while 11-year-old Alyssa Spencer focused on finding something for someone closer to her own age.
"I brought in toys for little kids, such as dress-up things and other stuff like that," she said. "It felt really nice helping people who don't get much for Christmas."
Other area children helped out in different ways, with Craig's elementary school choirs serenading people in the mall with carols during the Holiday Drive, as did other regional musicians like John Husband, John Allen and the Yampa Valley Boys, all of which were broadcast live from KRAI.
Amanda Peltier, director of the Sunrise Singers of Sunset Elementary, led her students in "Deck the Halls" and "Rockin' Around the Christmas Tree" on Thursday afternoon.
"This is the first time I've done this, but I know they've done it before, and I didn't want to break tradition," she said. "The kids love getting the attention and showing what they've been working on.
"They worked hard at it."
The live music no doubt helped loosen the purse strings for the people in attendance.
Advocates representative Karen Aragon said contributions for her organization have been generous, with some people offering help beyond cash, such as appliance repair by local businesses and other benefits for the program.
"It just amazes me every year, the generosity of this county," Aragon said. "I don't know if people understand the difference it makes for us."
Aragon said Advocates could also use some small items donated for people serviced by its multiple programs working against domestic violence and other abuse issues, like TracFones and phone cards.
"We've had a lot of people who've needed them," she said. "It gives them a way to communicate with others without someone finding out where they are."
Margaret Culverwell, director of Christmas for Seniors, said her charity could use similar items, including gift cards, gas cards and the like for its elderly recipients.
"A lot of them are asking for stuff to keep them warm — sweaters, sweatpants, socks, flannel pajamas," she said. "They also want things to keep them busy — embroidery, scrapbooking, yarn, stuff like that."
Additional donation suggestions for Christmas for Seniors are available on "Giving Trees" at Kmart and Murdoch's.
Culverwell said about 300 area seniors are helped through the charity.
"Sometimes, they get so choked up they can't talk," Culverwell said. "That's very rewarding, seeing that.
"The whole idea of the program is for a senior to wake up Christmas morning and find a gift under the tree and know somebody cares about them. It's a huge giving community here.
"They take care of their kids and their seniors."
Click here to have the print version of the Craig Daily Press delivered to your home.