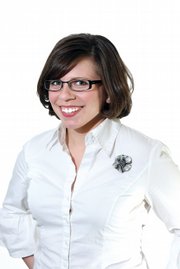 Weekend movie show times
West Theatre
29 E. Victory Way
824-2000
• "The Change-Up," R and 9:05 p.m. Fri. and Sat., 4 and 7 p.m. Sunday
• "Crazy, Stupid, Love," PG-13; 7 and 9:05 p.m. Fri. and Sat., 4 and 7 p.m. Sunday, 7 p.m. Monday and Tuesday
• Tickets: $7 for ages 10 and older, $5 for ages 9 and younger
• Sunday matinee: $5 for ages 10 and older, $4 for ages 9 and younger
Submit your event
Submit your event's details for consideration by emailing me at mballeck@craigdai... or calling 875-1790.
As it is Labor Day weekend, there's not much planned around town. So it's a good excuse to spend time with your families, ideally outdoors, and soak up what's left of summer.
■ Root for the home team as the Moffat County High School boys varsity football and boys varsity soccer teams play on local soil Friday.
The soccer team battles Grand Junction Central High School at 4 p.m. Friday at Loudy-Simpson Park, 500 S. Ranney St. The football team faces Aspen High School at 7 p.m. Friday at the high school, 900 Finley Lane.
■ Learn to crochet with free classes offered by Mary Walters.
The classes are scheduled for 1 to 4 p.m. Friday and Sept. 16 at 655 Ranney St., in the back south building.
Take a size I crochet hook and four-ply yarn to create a potholder.
Call Mary Walters at 824-2923 to learn more.
■ Join the Hens and Chicks for potluck and meeting Friday.
The Yampa Valley Hens & Chicks, the local chapter of the Farmgirl Sisterhood, has its monthly meeting and a potluck lunch from 1 to 2 p.m. Friday at St. Michael Catholic Church, 678 School St.
Learn more from Susan Domer at 824-6436.
■ I, for one, am excited for this weekend's movie selections at West Theatre. Check out "Crazy, Stupid, Love." — with the always loveable Steve Carell and Ryan Gosling — and "The Change-Up" — with the also loveable Ryan Reynolds and Jason Bateman — for some adult laughs.
New at Redbox this week are "Rio," "American Breakdown," "Ghost Town," "The Beaver," "Tracker," "Surf's Up" and "The Greatest Movie Ever Sold."
Click here to have the print version of the Craig Daily Press delivered to your home.