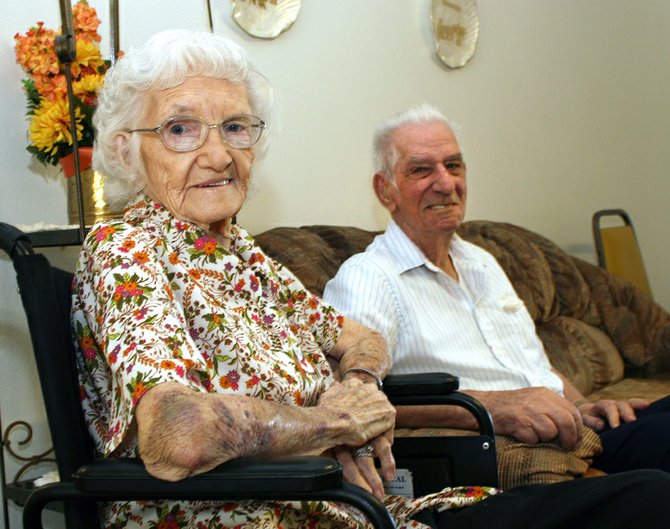 Sunset Meadows pays tribute to 'Nifty 90s' residents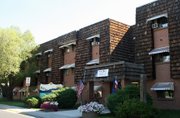 Nifty 90s honorees:
The following is a list of Sunset Meadows residents who were honored during an Aug. 17 event celebrating seniors who have turned or will turn 90 and older this year:
• Marie Greenwald, 90
• Dorothy Murray, 90
• Millie Bilsing, 91
• George Davidson, 91
• Toni Ayres, 92
• Elsie Chase, 93
• Sophie Nardi, 95
• Leether Redmon, 99
• Chloe Peterson, 100
Quotable
"Some of the people who are here now, I took care of their family when I worked at the nursing home, and they haven't forgotten me yet. I was noted to spoil my patients because if my parents had been in there, that's what I would have expected them to have — a little bit of love and the best of attention."
— Chloe Peterson, a 100-year-old Sunset Meadows resident, about her experiences on both sides of the senior community
When Chloe Peterson and Leether Redmon were born, President William Howard Taft was in office, women had no constitutional voting rights and the automobile was considered a new innovation.
What a difference a century, or in Leether's case, almost 99 years, makes.
Peterson and Redmon are the two oldest residents at the Sunset Meadows retirement community in Craig. They, along with seven other residents in their 90s, were honored earlier this month at a "Nifty 90s" party.
The collective birthday party — which has been an annual event at Sunset Meadows since 1999 — gathered the guests of honor with friends, family and fellow tenants.
Ute Jantz, executive director for the Moffat County Housing Authority, said the party is one of the biggest events of the year at Sunset Meadows.
"A lot of people in the community get involved and help out," she said. "This year, we had about 90 people show up, so it was just great."
Special recognition was given to Peterson's three-digit milestone.
Kitchen manager Irene Moralez, who helped arrange the party, said Peterson is one of only two people she has seen reach 100 years in her 12 years working at Sunset Meadows.
"Pat Moul was the other one," she said. "She was so excited about it. She turned 100 the same year as the city centennial (in 2008), and (then-Mayor) Don Jones came and congratulated her."
Peterson was just as pleased with her own party.
"Oh, my gosh, man, it was wonderful," Peterson said. "I liked being around all those people and one of the women was waving her fork around saying, 'I hope they don't forget to give us cake.'"
Born May 7, 1911 in Colcord, W.Va., Peterson first came to Northwest Colorado in 1942, settling in Steamboat Springs with her husband, Vernon, whom she married in 1932, and daughter, Flora, born in 1933.
"It was during the war and my husband wanted to enlist with his three brothers, but since he had bad lungs they wouldn't take him," she said. "He heard they needed coal miners out here so we migrated, and he worked for Mount Harris Coal Company until it closed in 1959."
Peterson didn't move to Craig until the early 1990s, but she worked at the newly built Sandrock Ridge Care & Rehab in the 1960s. She has since outlived her husband and daughter, but she still has two grandchildren, Brian Smith and LaVan Stehle, both of Craig, and two great-grandchildren.
"I've got friends calling in to check on me from Hawaii to Florida, so I've always got lots of company," she said.
In April, Peterson moved into Sunset Meadows.
"I'm not in any hurry to arrange my furniture here, but I'm just so thankful I'm as healthy as I am," she said. "Some people I see here are in their 50s and they don't look much better than I do. I still do my own driving when I don't have the swelling in my feet."
Using a walker, Peterson doesn't get the opportunity to participate in everything she used to do in her younger days, like hunting. Still, she enjoys everything about the scenic appeal of the region that has been her home for nearly 70 years.
"It's wonderful country up in the mountains, that's for sure," she said. "We have everything here, and it's great climate. When you've lived in the Southern states like I have and then come out here, people don't realize how thankful they should be for Colorado."
Living next door to Peterson is someone who loves Northwest Colorado so much that he never left.
At 98, Redmon is the second-oldest resident of Sunset Meadows. He was born Oct. 22, 1912, in Moffat County. He grew up on a farm and went to work in the agriculture industry as an adult, first as a grain farmer and then by opening the local John Deere branch in 1955, which he ran for 15 years.
"The area is a lot different today," he said.
With three marriages under his belt, Redmon also has an extensive extended family, with more than 60 grandchildren, great-grandchildren and great-great-grandchildren.
"They come and visit me sometimes, but some of them don't live here anymore," he said.
Redmon spends most of his time in a comfy easy chair, reading and rereading a stack of well-worn paperback Westerns, and watching sports.
"I mostly like watching football and baseball," he said.
Redmon said the "Nifty 90s" party was a rarity for him to attend. He doesn't get the chance to socialize much because of bad hearing.
"Not being able to hear really isolates you and it's hard to talk to people," he said.
Jantz said having events like "Nifty 90s" is important to help residents stay active and social.
"It can be hard to get some of the seniors to participate, but once you get them through the door and going, they love it," she said.
Peterson said she appreciates the work the Sunset Meadows staff puts into resident care. Her own experiences working with the elderly have given her a sense of what it takes.
"Some of the people who are here now, I took care of their family when I worked at the nursing home, and they haven't forgotten me yet," she said. "I was noted to spoil my patients because if my parents had been in there, that's what I would have expected them to have — a little bit of love and the best of attention."
Click here to have the print version of the Craig Daily Press delivered to your home.