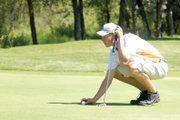 2011 Moffat County High School varsity golf schedule:
(Date — place — host/opponent)
• Aug. 15 — away — Bookcliff Golf Course
• Aug. 17 — away — Black Canyon Golf Course
• Aug. 18 — away — The Bridges Golf Course
• Aug. 22 — away — Rifle Creek Golf Course
• Aug. 24 — away — Eagle Vail Golf Course
• Aug. 25 — away — Gypsum Creek Golf Course
• Aug. 31 — away — Devils Thumb Golf Course
• Sept. 1 — away — Cobble Creek Golf Course
• Sept. 7 — home — Yampa Valley Golf Course
• Sept. 8 — away — Haymaker Golf Course
• Sept. 13 — away — Aspen Golf Course
• Sept. 20 — away — Regionals @ Rifle Creek Golf Course
• Oct. 3 — away — State tournament
• Oct. 4 — away — State tournament
MCHS varsity boys golf team at a glance:
Coaches:
• Ken Harjes
• Casey Kilpatrick
Seniors:
• Colby Haddan
• Trey Jourgensen
• Parker King
• Ethan O'Mailia
By the numbers:
1: The Bulldogs return one state qualifier from last year's team — Parker King.
4: All four seniors returning this season played in the 2010 regional tournament.
31: The 2011 season will be head coach Ken Harjes' 31st year coaching golf at MCHS. His assistant coach, Casey Kilpatrick, is entering his second year.
Last fall, Parker King was able to accomplish something no Moffat County High School golfer had been able to do since 2002 — qualify for the state tournament.
King, then an MCHS junior, went into Montrose's Coble Creek Golf Course with nothing to lose and walked away with a 4A state tournament berth.
The last MCHS boy to qualify for the state tournament was Cody DeGuelle nine years ago.
"I think after playing in the state tournament I am going to do a lot better in regular high school tournaments," King said. "I have that extra experience in a big tournament that I think will really help me improve."
Therein lies one of the biggest keys to golf, said Ken Harjes, MCHS boys varsity golf head coach.
"Playing in big tournaments gives golfers so much experience," he said. "More than any other sport, I think experience is a huge factor on how golfers play."
While King was the only Bulldog to play in the 2010 state tournament, finishing 44th overall, he heads into his final year with three other seniors — Colby Haddan, Trey Jourgensen and Ethan O'Mailia — who all gained experience last season by playing in the 4A regional tournament.
Leadership
Having all four regional players return, Harjes said, is not only a benefit for the seniors, but also for the team as a whole.
"The younger players learn so much by just watching the seniors play," he said. "When we do a putting tournament during practice, I team up the older players with the newer players and I can just tell that the young guys not only watch how they play, but also how they act on the course.
"Some things in golf are hard to teach because you can talk players through situations, but until they experience it, they won't really know."
Golf may be more of an individual sport, King said, but having solid players around helps.
"If one of us plays good, then the others are going to want to play better," he said. "It is up to you to play your own game, but having good players around helps me improve my own game."
Jourgensen said the more tournaments he plays in the more comfortable he feels on the course.
"Experience helps me keep my mental game under control," he said. "I can block out the bad shots that may sometimes get to me and it helps me control my nerves with big shots."
O'Mailia said the more a golfer plays, the more circumstances they can assess later.
"You come up against so many situations in golf, and if you know what you are doing, you can evaluate easier," he said. "You will know your options before you even get to your ball."
Eyes on the prize
All four seniors have played on the team since their freshman year and all four have the same goal heading into their final season — qualifying for state.
"My biggest goal is to qualify for state," Haddan said. "I just have to bare down and stay mentally focused and use what I know."
The first challenge will be the regional course — Rifle Creek Golf Course.
Haddan said the Rifle course is short, but the back nine is narrow, which can cause some trouble.
"I have played in Rifle six times and I have averaged about 90," he said. "On the back nine it is really hard to stay in the fairway because it is so narrow and that can add extra strokes."
Harjes said he sees a change in King's game, following his state tournament appearance.
"Parker is able to be more confident, comfortable and relaxed since he has been (to state)," he said. "It takes pressure off him coming into his last year because he has already played in state, but by the same token, he can't get overconfident because there is no guarantee he will return."
King said he didn't stay content with his game, working all summer to shed strokes.
"I really worked on making my birdie putts," he said. "Last year, I didn't score as well as I should have because I missed a couple of putts. To make it back to state I need to make those."
King's experience at state doesn't only help hims.
O'Mailia said while all the seniors have played together since their freshman year, they still look to each other for help.
"If I can watch Parker and help my own game, I will do it," he said. "We all look to each other and try to help so we can compete well as a team."
Harjes said he wouldn't be surprised if all the seniors made it to state.
"I have seen what Trey, Colby and Ethan are capable of," he said. "I watch them at practice every day and no one would shock me if they shot a 78 or 79 and qualified for state.
"It will take their best, but it could happen."
Click here to have the print version of the Craig Daily Press delivered to your home.