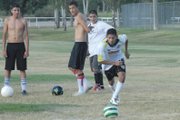 Moffat County High School boys varsity soccer team's 2011 schedule:
(Date — Place — Opponent (2010 season record))
Sept. 2 — home — Grand Junction Central (1-14)
Sept. 8 — away — Roaring Fork (10-5-1)
Sept. 10 — home — Grand Junction (8-6-1)
Sept. 15 — home — Steamboat Springs (9-5-1)
Sept. 17 — away — Eagle Valley (7-7-1)
Sept. 20 — home — Battle Mountain (13-4)
Sept. 22 — away — Grand Junction Central (1-14)
Sept. 24 — away — Palisade (2-11-2)
Sept. 29 — home — Eagle Valley (7-7-1)
Oct. 1 — away — Glenwood Springs (5-9-1)
Oct. 6 — away — Battle Mountain (13-4)
Oct. 11 — home — Glenwood Springs (5-9-1)
Oct. 15 — home — Palisade (2-11-2)
Oct. 20 — away — Steamboat Springs (9-5-1)
Oct. 21 — away — Grand Junction (8-6-1)
— All home games will take place at the soccer fields at Loudy-Simpson Park
At a glance
Coach:
• Rusty Cox
Seniors: 5
2010 record:
• 11-5 overall, 7-3 Western Slope League
By the numbers:
1: 2010 was the first year the Bulldogs had qualified for the playoffs since 2005. The team's record, 11-5, was the best in school history.
30: Graduated senior Tracy Mendoza accounted for 30 of the Bulldogs goals last season. The top three returning scorers — junior Alex Perez (19), junior Alan Flores (7) and senior Jonathan Pando (4) — account for the same number of goals combined.
26: Perez, Flores and Pando also accounted for 26 assists last season.
The Moffat County High School boys varsity soccer team recorded its best season in the program's 20-year history in the fall of 2010.
At the end of the year, which included a playoff appearance, coach Rusty Cox was confident that despite inevitable roster changes his team would stay competitive in 2011.
Confidence turned into certainty after Cox watched his team in the first week of practice.
"We've definitely got a strong core this year," he said.
The soccer team began practicing Aug. 15 at the old stomping grounds, Loudy-Simpson Park. Half the team was familiar with Cox as the team began practicing, while the other half included newcomers.
Out of the 20 players on the team, 10 are in their first year with the Bulldogs, including eight freshmen.
Sophomore Brenden Spencer and freshman Alex Arellano are among the rookies adjusting to the team's pace.
"Rusty's a good coach, he's been putting us through a lot of conditioning," Arellano said. "I was actually ready for some harder stuff, but it's been good."
Spencer said the upperclassmen have been helping guide their new teammates.
"They push us, but they know what they're doing," he said.
Both Spencer and Arellano are hoping to start as goalie, filling the position that outgoing senior Dustin Carlson made his own last year. Carlson's absence from the net isn't the only noticeable change, with contributors like Inez Quezada, Manuel Tarango, Victor Villa and Eli Voyich also finishing their MCHS careers last season.
But, players old and new are picking up the slack, Cox said.
"We've still got a strong line, offensively, there's no doubt in my mind," Cox said. "They're all working hard and looking good out there."
The biggest difference from last season is the absence of leading scorer Tracy Mendoza, whose 30 goals throughout the season helped the team achieve one new peak after another. Besides Mendoza leading the Western Slope League in goals with six separate hat tricks, the team also started its season on a six-game winning streak.
The Bulldogs landed a spot in the playoffs for the first time in five years. Cox was also named the league's coach of the year.
Cox said he fully expects his lineup to be on the ball and at the level they were last year.
"I have every faith in them," he said. "This team's really easy to blend in, with the freshmen coming in, that's good for them because they're going straight from whatever they were doing last year to varsity level soccer without a JV squad as a place to build. It's a lot tougher.
"We seem to work through it. I really can't knock a single guy on this team."
Juniors Alex Perez and Alan Flores and seniors Jonathan Pando and Lupe Rodriguez are among the returning players expected to excel this season.
Rodriguez said he has kept in shape for the upcoming season by playing soccer with friends regularly during the summer and working in landscaping to get additional exercise.
"I'm surprised a lot of the new guys were in such good shape," he said. "I try to help them when they need it, but I don't think I'm better than them."
Rodriguez said he is focused on performing his best in his last season at MCHS, which, with enough hard work, will include a spot in the playoffs.
"We're going to try and do the same as last year," Rodriguez said. "Hopefully we can do even better, but we're going to do our best."
Click here to have the print version of the Craig Daily Press delivered to your home.