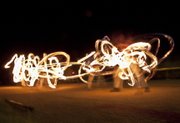 Winners
Colorado State BBQ Championship at Craig winners
■ Chicken
First place: Sweet Peppers, Albuquerque, N.M.
Second place: Deadlast BBQ, Overland Park, Kan.
Third place: R and R BBQ, Salt Lake City
■ Ribs
First place: Peace Pit BBQ, Greeley
Second place: OOPS, Grand Junction
Third place: Side of the Tracks, Columbia Falls, Mont.
■ Pork
First place: Skin & Bones 2, Tarpon Springs, Fla.
Second place: Flyboy BBQ, Bailey
Third place: OOPS, Grand Junction
■ Brisket
First place: Swinestone Cowboys, Highlands Ranch
Second place: Flyboy BBQ, Bailey
Third place: Peace Pit BBQ, Greeley
Grand champion: Flyboy BBQ, Bailey
Reserve grand champion: Peace Pit BBQ, Greeley
Craig — You could smell the aroma throughout Loudy-Simpson Park on Saturday.
You know the one: The mingled fragrances of slow-cooked meat, wood smoke, something sweet — maybe brown sugar —and something spicy you just can't name. It's the signature scent of barbecue.
Cooks of all stripes were at work at the park Saturday, the second day of the Colorado State BBQ Championship at Craig. A total of 29 teams, local and from out-of-state, turned out for the second annual event.
Organizers estimate about 3,000 attended the event Friday and Saturday. The Incendiary Circus, which started at dusk Friday, drew about 1,500 people.
George Rohrich, chief executive officer of The Memorial Hospital, which sponsored the event with the Craig Daily Press, said the event was a success.
"It's been great," Rohrich said Saturday. "It's gone very smooth."
The event was free, but attendees were encouraged to bring nonperishable food donations to St. Michael's Kitchen in lieu of admission. As of Saturday afternoon, the event garnered 650 cans of food, more than $550 in cash and more than 500 pounds of barbecue, donated by competitors, for St. Michael's, said Jennifer Riley, chief of organizational excellence at TMH.
Charlie Epp, of Hayden, one of the competitors, watched as trays of meat turned slowly on a carousel inside his vast, black cooker.
"You pretty much have to have it down to a science," he said.
A lot of variables come into play — the type of cooker, temperature, cooking times — and the challenge keeps him hooked.
Epp, who owns Wolf Mountain Pizza in Hayden, has been barbecuing for about 18 years, and this weekend was his second time competing in the championship.
"It's fun to compete, but it's pretty stiff competition," he said, adding, "For me it's more (about) socializing, talking to people and talking barbecue."
Nearby, Rachel Green, of Rachel's Smokin' Café in Oak Creek, sat under a tent while her cooker — made from what she thinks was an old generator for an overhead light used at the mines — did its work.
Green is no stranger to barbecue. Her father barbecued, as does her mother. But a place called Roy's Barbecue in Corpus Christi, Texas, may have had the biggest influence in her decision to pursue the perfect barbecue. She ate at the restaurant when she was a child, and the flavors still linger.
"If I could ever figure out how he did it, I'd be excited," she said. "No one cooked it like they did. It was just warm, good memories."
As the competitors readied their entries, attendees who came out to the park got to sample the fruits of their labor.
Wayne Quick, who lives north of Craig, cooks barbecue at home but didn't enter the competition.
Still, that doesn't mean he can't appreciate good barbecue when he tastes it.
As Quick spoke, Norm Lopez, of Craig, ambled over to the water spout where Quick was washing his hands, and they briefly compared notes about what they'd tasted so far.
Lopez said he does very little barbecuing.
"That's why I come here," Lopez said.
But, he said, the championships also were a chance for him to socialize.
There's "a lot of good people out here," he said as he scanned the park, full of booths, families, crowded lunch tables and barbecue cookers.
Quick summed it up more succinctly.
"Good eats, good time," he said.