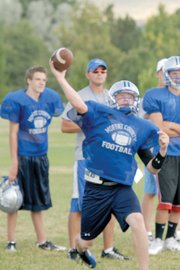 If you go …
What: Moffat County High School varsity football vs. Evergreen High School
When: 7 p.m. today
Where: Evergreen High School, 29300 Buffalo Park Rd.
— General admission is $5. Senior citizen admission is $3.
Projected Starter
The Moffat County High School varsity football team's offensive/defensive starters against Evergreen High School:
Offense:
• Bubba Ivers — quarterback
• Michael Samuelson — fullback
• Garrett Stewart — halfback
• Wes Chapman — halfback
• Miguel Molina — tight end
• Jarrett Walt — tight end
• Dru Nielson — left tackle
• Josh Pritchard — left guard
• Levi Ogden — center
• Zach Beauchamp — right guard
• Tyler Hildenbrandt — right tackle
Defense:
• Bubba Ivers — safety
• Garrett Stewart — cornerback
• Miguel Molina — cornerback
• Jarrett Walt — dog linebacker
• Mason Updike — stongside Sam linebacker
• Josh Pritchard — Mike linebacker
• Levi Ogden — weakside Sam linebacker
• Andy Browning — dog linebacker
• Dario Georgiou — tackle
• Zach Hansen — tackle
• Tyler Hildenbrandt — tackle
For the second year in a row, the Moffat County High School Bulldogs and the Evergreen High School Cougars will play a zero-week game.
The location is different — MCHS travels to Evergreen this year — but the teams are similar.
Both teams start the same quarterback as last season — Bubba Ivers for the Bulldogs and Noah Ansley for the Cougars.
Ivers and Ansley are both mobile quarterbacks, with Ansley rushing for 493 yards and Ivers putting up 969 rushing yards in 2010.
Players with significant experience will be on both sides of the ball.
"Evergreen is returning their five leading rushers from last season," Bulldogs head coach Kip Hafey said. "Their quarterback is a three-year starter, but we also have players who started last year. We have sophomores who will play like seniors and seniors who will play like it's their first year of college."
Last season, the Bulldogs (6-4 overall, 5-2 Western Slope League in 2010) took an early 9-0 lead and led 15-14 at halftime.
However, the Cougars (8-3 overall, 5-1 Metro South League in 2010) stormed back to take a 26-22 lead. A late interception sealed the win for Evergreen.
"We have to limit our mistakes this early in the season," Hafey said. "We only had two weeks of practice before our first game, and 85 percent of the teams in the state aren't playing this week. If we can play mistake free with such little practice, that will be huge for our team."
The biggest MCHS flaw that hurt the team last season, Ivers said, was the Bulldogs' inability to finish games.
"We would play awesome in the first half and be right there with some of the best teams in the state," the junior quarterback said. "Then, we fell apart in the second half. We would get blown out of the water and it wouldn't be close."
But, with seven offensive starters returning this season, Ivers said the squad has been "clicking."
"Ever since the Wyoming camp, we have just been on," he said. "We didn't even know all the plays and we still did good. The longer we have played together, the better we have gotten."
Hafey said his quarterback has improved in the offseason.
"Bubba has picked up
everything so far and just been really motivated," he said. "He is a natural leader and he is ready to go out there and make things happen against Evergreen."
The team's offensive experience may put points on the board, but the defense will need to contain Ansley and the Cougar offense.
Lance Scranton, MCHS defensive coordinator, said turnovers would be the key against the Cougar's shifty quarterback.
"Make tackles and cause turnovers," he said. "Our best defense is to have our offense on the field. We always stress turnovers and we have to get them."
In the end, Ivers said a team effort is needed to win tonight's game.
"We all have to step up and be a team to get this first win," he said. "We can't count on just one person to make a team, so we need to have good timing and make good tackles and we will be right there in it until the end."
Click here to have the print version of the Craig Daily Press delivered to your home.