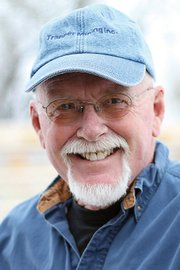 In other news ...
At its regular meeting Tuesday, the Craig City Council:
• Approved, 7-0, the first reading of Ordinance No. 1015, licensing pawnbrokers in the City of Craig.
• Heard monthly water and wastewater reports.
• Heard a month end financial report for July from Craig finance director Bruce Nelson.
• Heard from Craig youth Jeremy Looper, who requested an audience with the city's planning and zoning commission to discuss amending Craig's livestock ordinance to allow domestic chickens.
Thousands of elected leaders have gone through and completed the Colorado Municipal League's leadership training program.
One more was added to the list this week.
CML Executive Director Sam Mamet presented Craig Mayor Terry Carwile with the Municipal Elected Officials Leadership Training Certificate at Tuesday night's Craig City Council meeting.
CML's executive board launched the leadership program in 1991 to recognize officials who make an extra effort to expand their knowledge of municipal government and increase their capacity to lead, according to a CML news release.
Carwile was recognized Tuesday for successfully completing 30 training credits in the program.
"Some of you (council members) have gone through this," Mamet said. "And you know it requires going through a lot of league training."
CML is a nonprofit, nonpartisan organization established in 1923 that provides advocacy, information and training to build stronger cities and towns.
Of the 271 cities and towns in the state, 265 belong to CML, including Craig, Dinosaur, Hayden, Meeker, Rangely and Steamboat Springs
"I thank you for who you are and what you do," Mamet told Carwile. "Not just up here on the dais, but out there (in the community), as well."
Click here to have the print version of the Craig Daily Press delivered to your home.