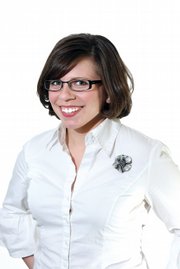 Weekend movie show times
West Theatre
29 E. Victory Way
824-2000
"The Smurfs" — Rated PG; 7 and 9:05 p.m. Friday and Saturday, 4 and 7 p.m. Sunday
"Zookeeper" — Rated PG; 7 and 9:05 p.m. Friday and Saturday, 4 and 7 p.m. Sunday
Tickets: $7 for ages 10 and older, $5 for ages 9 and younger
Sunday matinee: $5 for ages 10 and older, $4 for ages 9 and younger
Submit your event
Submit your event's details for consideration by emailing me at mballeck@craigdai... or calling 875-1790.
Even if you're not into barbecue — how could you not be? — there's plenty of fun at this weekend's BBQ Championship.
There's music, a fire show and more.
Plus there are a couple of golf tournaments to help you enjoy the last weekend of summer before school starts up again.
• I bet your mouth is watering. The Colorado State BBQ Championship returns to Craig this weekend.
The event pits barbecue chefs against each other in chicken, ribs, pork and brisket categories at Loudy-Simpson Park.
There are activities for you to enjoy between noon and 9 p.m. Friday and 8 a.m. and 6 p.m. Saturday. Tonight's highlights are fire shows by the Incendiary Circus at dusk. Barbecue awards are presented at 3:30 p.m. Saturday.
Admission is free to the championship. Donations of canned food items for St. Michael's Kitchen will be accepted at the gate, though, so raid your pantry.
Visit www.craigbbq.com for a schedule of events.
• Relax to the sounds of acoustic blues and rock music by Steve and Brain Ghirardelli as the father-son duo plays today.
The Ghirardellis perform from 3 to 6 p.m. today during Thursday Thunder at Gino's Neighborhood Pizzeria & Grill, 572 Breeze St.
While you're there, enjoy half-price appetizers and drinks and enter to win a five-day trip to Cabo San Lucas. Nice.
Call Gino's at 824-6323 to get the details.
• Pull on your leg warmers and tease your bangs. It's '80s night at Yampa Valley Golf Course.
The course hosts the TGIF chapman couples tournament at 5:30 p.m. Friday and invites golfers to dress like they did 30 years ago.
The cost is $46 per couple.
Call 824-3673 to sign up.
• Hit another round during the Wakonda Cup Fore Fat Cor golf tournament, beginning at 1 p.m. Saturday.
The tournament benefits the Cory Pike scholarship fund and is $100 per person. Hawaiian attire is a must.
Afterward, there's dinner and the awards presentation at 7 p.m. at J.W. Snack's, 210 E. Victory Way.
Call Dave Pike at 824-2995 to find out more.
• Jam to favorite tunes sung by local singers.
Emily Pfeifer's vocal students will perform songs by famous artists like Carrie Underwood, Adele and Cyndi Lauper during The Best of Pop & Country concert at 7 p.m. Friday at the Moffat County High School auditorium, 900 Finley Lane.
It's free so sit back, relax and tap your foot along.
• Fun for kids and adults is at the next Craig Chamber of Commerce Ambassadors' Business After-Hours Mixer.
The mixer is from 5 to 7 p.m. today at State Farm Insurance, 690 W. Victory Way.
It's free and anyone is welcome.
RSVP to 824-5689 or office@craig-chamber.com.
• West Theatre is getting in "The Smurfs" and "Zookeeper" so you can get in a few laughs.
New at Redbox this week are "Blitz," "American Breakdown," "Ghost Town," "The Beaver," "Tracker," "Surf's Up" and "The Greatest Movie Ever Sold."
Click here to have the print version of the Craig Daily Press delivered to your home.