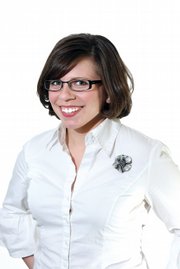 Weekend movie showtimes
West Theatre
29 E. Victory Way
824-2000
• "Rise of the Planet of the Apes," PG-13; 7 and 9:05 p.m. Fri. and Sat., 4 and 7 p.m. Sunday
• "Cowboys and Aliens," PG-13; 7 and 9:05 p.m. Fri. and Sat., 4 and 7 p.m. Sunday, 7 p.m. Monday and Tuesday
• Tickets: $7 for ages 10 and older, $5 for ages 9 and younger
• Sunday matinee: $5 for ages 10 and older, $4 for ages 9 and younger
Submit your event
Submit your event's details for consideration by emailing me at mballeck@craigdai... or calling 875-1790.
There's plenty to watch this weekend, from balloons in the sky to a movie on the lawn. Plus there's some luau fun at the annual firefighter's ball and a couple bands to check out.
■ Wake up early and head down to Loudy-Simpson Park to watch the balloons take flight during the second annual Moffat County Hot Air Balloon Festival.
The balloons launch at dawn, or about 6 a.m., Saturday and Sunday.
There's also the Hot Air Scramble golf tournament Friday, balloon glow at 9 p.m. Saturday and dancing Friday and Saturday nights. There are vendors and children's activities, as well.
Admission is $5 for all the weekend's events.
Read more about the balloon festival on page 14.
■ Dress up and get down.
The annual Firefighter's Ball Luau will be 6 p.m. to midnight Saturday at the OP Bar & Grill, 534 E. Victory Way.
There's a DJ and a bonfire.
Tickets are $10. Proceeds go toward scholarships.
Call 824-5914 for more info.
■ The Walker Williams Band takes the stage at 9 p.m. Friday and Saturday at the Sports Page Bar at the Holiday Inn of Craig, 300 S. Colorado Highway 13.
There's no cover, and the bar is offering drink specials.
Bottoms up.
■ Ashley Buchart and her band perform Friday and Saturday at Mathers Bar, 420 Yampa Ave.
The show starts at 9:30 p.m. each night, and the cover's $5.
■ Watch stars under the stars.
Catch a family-friendly flick as Calvary Baptist Church offers a public movie on the lawn at 9 p.m. Friday at the church, 1050 Yampa Ave.
The event is free, and refreshments will be for sale.
To find out what movie is showing, call the church 824-5222.
■ West Theatre is holding onto "Cowboys & Aliens" and "Rise of the Planet of the Apes" so get over there if you've missed them.
New at Redbox this week are "Limitless," "Priest," "The Conspirator," "Take Me Home Tonight" and "Hoodwinked Too! Hood vs. Evil."
Click here to have the print version of the Craig Daily Press delivered to your home.