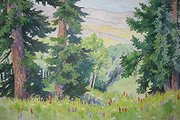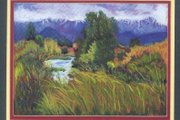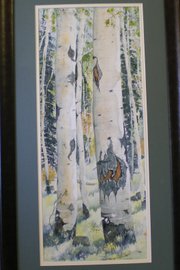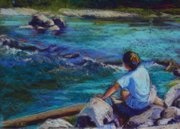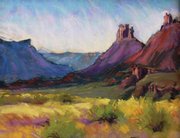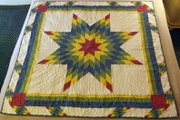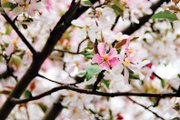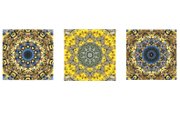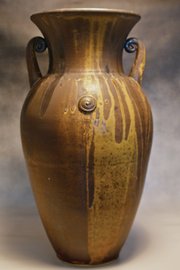 Results of Colorado Northwestern Community College's Call to Artists of Northwest Colorado:
Painting:
• Mary Pat Ettinger, Moffat County
"Black Mountain" — acrylic wash
• Sondra Garcia, Meeker
"Fall on the White River" — watercolor
• Deanna Messing, Moffat County
"Colorado River" — pastel
• Lynette "Sis" Pell, Moffat County
"Colorado Aspen" — watercolor
• Pat Sheeran Daggett, Meeker
"Distant Shores, Turbulent Waters" — pastel
"Priest and Nuns" — pastel
Fiber art:
• Renata Beason, Moffat County
"Last Minute Star"
Ceramics:
• Andrew Goettel, Meeker
"Large Stoneware Vase"
Photography:
• Pete Bergmann, Moffat County
"Bears Ears Guarding the Valley," "Flowers Embracing the Sunset"
• David Foster, Moffat County
"Reflections of Cedar Mountain"
• James Hebert, Moffat County
"Blossoms"
• Janele Husband, Moffat County
"Reflections of Rainbow Park," "Golden Autumn," "Safe Haven"
• Sasha Nelson, Moffat County
"Two Aspens and an Astor"
• Kathy Simpson, Moffat County
"Moonlight Serenade," "Escape," "Proletariat"
When Colorado Northwestern Community College students look out the windows of their newly built school, they'll see a stunning view of Moffat County's landscape.
But, it won't be long before the school's interior is filled with as many inspiring vistas.
CNCC's Craig campus announced Monday selections in its Call to Artists of Northwest Colorado, a competition for regional residents to have their work displayed in the school's new buildings.
Thirty-six artists submitted 81 pieces of work. The school's jury selected 19 artworks by 13 artists. Ten of the artists are Moffat County residents and three live in Meeker.
Amy Laugesen, an Englewood resident and former curator of contemporary exhibits for Denver International Airport, was part of the jury along with fellow Denver curators Michael Chavez and Jil Rosentrater. The three convened in July at CNCC to critique submissions.
"I think we selected a nice grouping," Laugesen said. "We were looking for things that would stand out and they had to work with the building's scale and presence."
Laugesen said she and her fellow panelists each brought different areas of expertise to the selection process. Though her own experience is mostly in sculpture, she has "an appreciation for all art media."
"We each had our own aesthetics, and I think we worked well together in representing the community," she said. "Given the parameters of the site, I felt we selected the best work. The three of us are excited to visit Craig again and see the artwork on display."
Laugesen said she appreciated the difference of styles artists used in their paintings, ceramics and photography. Most of the works are nature-themed, though the presentation ranges from representational to abstract.
Sasha Nelson's photographic triptych, "Two Aspens and an Astor," falls into the latter category. Nelson digitally altered snapshots she took of flora near Black Mountain in spring 2010 to look like a set of three kaleidoscopes.
"It was just a happy accident," she said. "I do very little manipulation in my pictures, so it's kind of an unusual direction for me."
Nelson said she has been a photographic hobbyist "off and on" since the late 1990s.
"The last few years, I had new digital equipment and the transfer keeps me busy working to find something I'm happy with so I can create an exciting image," she said.
The natural landscape and the animals that populate it are everything in Nelson's photography.
"My family always teases me, 'Where are the people?'" she said. "I just don't find people that interesting to photograph."
Nelson also submitted entries in the fiber art category, which includes artwork such as quilts.
Renata Beason's quilt, "Last Minute Star," was the lone fabric art submission to make the cut. The piece uses a great deal of red, yellow and green as part of its palette.
"They're rich country colors, and it's just something different," Beason said. "I've been doing quilting for 10 years, whenever I can get my hands on them."
"Last Minute Star" also took home the Grand Champion award at the Moffat County Fair.
"I still feel butterflies in my stomach," she said. "It was a wonderful project, and I'm happy that after spending hours on it, it got recognized. Just go with your heart, create something of your own and you'll be surprised what kind of compliments you can receive."
As a member of the CNCC Art Selection Committee, Pam Foster was pleased with the submissions.
"We have a lot of great local artists, and I would imagine they had a tough time selecting," Foster said.
Foster said she has not had the chance to see the new art yet. The college will be installing the pieces around the buildings in September.
The project includes a $50,000 budget for framing, display cases and installation.
"Craig has never had the opportunity to bring art to the public like this," she said. "This is a once-in-a-lifetime opportunity."
Click here to have the print version of the Craig Daily Press delivered to your home.