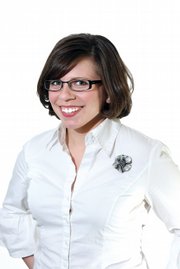 Weekend Movie Showtimes
West Theatre
29 E. Victory Way
824-2000
• "Rise of the Planet of the Apes," PG-13; 7 and 9:05 p.m. Fri. and Sat., 4 and 7 p.m. Sunday
• "Cowboys and Aliens," PG-13; 7 and 9:05 p.m. Fri. and Sat., 4 and 7 p.m. Sunday, 7 p.m. Monday and Tuesday
• Tickets: $7 for ages 10 and older, $5 for ages 9 and younger
• Sunday matinee: $5 for ages 10 and older, $4 for ages 9 and younger
Submit your event
Submit your event's details for consideration by emailing me at mballeck@craigdai... or calling 875-1790.
There's more than enough to keep busy with this weekend. You literally couldn't attend all of Thursday's events if you tried.
Plus, there's plenty to fill the rest of the days, too.
■ Help Carelli's pick which wines are best for the new menu during wine tasting at the restaurant, 465 Yampa Ave., from 5:30 to 9 p.m. Thursday.
The cost is $20 per person, which includes wine and appetizers. Only 50 tickets will be sold. You've got to be at least 21 to go, of course.
There's also an auction to benefit local nonprofit organizations.
Get more info. by calling 824-6868.
■ Jed Clampit returns to J.W. Snack's Bar & Grill, 210 E. Victory Way, at 8 p.m. Friday.
There's no cover. Score.
Call J.W.'s at 826-0468 for details.
■ The Moffat County Fair features some fun over the next few days at the fairgrounds.
Live entertainment, music and games, as well as sales of the fair food we love, kick off at 10 a.m. Thursday, Friday and Saturday.
The community barbecue celebrating the county's centennial is from 5 to 6:30 p.m., followed by miniature bull-riding, mutton bustin', catch-a-pig contest and chicken roping at 7 p.m.
The livestock sale is at 6:30 p.m. Saturday.
Plus, there are tractor pulls, a dance, lawnmower races and plenty of other silly activities.
Get a full schedule of events at www.craigdailypress.com/fair.
■ American Crown Circus hosts shows at 5 and 7 p.m. Thursday at Loudy-Simpson Park, 600 S. Ranney St.
Get more info. about the circus as well as a free child's ticket at www.americancrowncircus.com.
■ TGIF. Check out Yampa Valley Golf Course's 3-3-3 couples tournament at 5:30 p.m. Friday.
The theme is super heroes and the cost is $46 per couple.
The course is at 2179 Colorado Highway 394.
Call the course 824-3673 for more.
■ Culture comes to Craig as the Emerald City Opera and its Opera Artist Institute present a concert of favorite arias at 7 p.m. Thursday at The Journey at First Baptist Church, 1150 W. Ninth St.
Tickets are $8 each and are available at the door.
Call 879-1996 if you need more details.
■ Learn about recycling at the next 5:05 Drinks program, hosted by Yampa Valley Partners, from 5:05 to 6:30 p.m. Thursday at the O.P. Bar & Grill, 534 E. Victory Way.
Call Kate Nowak at 824-1133.
■ There's a Chamber mixer Thursday, too.
It runs from 5 to 7 p.m. Thursday at 4295 U.S. Highway 40. It's hosted by Northwest Storage, Ensignal, Rhino's Deli and Grand Futures Prevention Coalition.
It's free. Just RSVP to 824-5689 or office@craig-chamber.com.
■ There will be plenty of Junk in the Trunk at the aptly-named fundraising yard sale.
The sale runs from 9 a.m. to 1 p.m. Saturday at First Congregational Church, 630 Green St.
Find out more, or get your spot to sell by calling the church at 824-6836 or Jan at 824-4136.
■ Do a good deed and enjoy some outdoor time at National Public Lands Day.
Those who attend will help with re-establishing camping pads, painting and trail grooming. Volunteers get a free meal, T-shirt and other goodies.
Plus, you can camp the night before and the night after.
Call Gina Robison at 826-5083 to get the skinny on all the activities.
■ You might want to wear old clothes in case of an ill-intentioned hug at Saturday's Mud Splash volleyball tournament.
The Craig Chamber of Commerce sponsors the event, starting at 11 a.m., at Loudy-Simpson Park.
Call the chamber at 824-5689 to get your team in the mix.
■ Who can resist those eyes?
The Humane Society of Moffat County has a ton of adorable animals just waiting for you to take them home. And do it at a good price — $60 — this weekend during Second Chance Saturday, a reduced-cost adoption event from 9 a.m. to noon Saturday.
To view shelter animals, visit www.petfinder.com or the shelter at 2430 E. Victory Way. Call Carol at 824-2103 if you need more info.
■ West Theatre is getting in "Cowboys & Aliens" and is holding onto "Rise of the Planet of the Apes."
New at Redbox this week are "Arthur," "Mars Needs Moms," "Camp Hell" and "Unanswered Prayers."
Click here to have the print version of the Craig Daily Press delivered to your home.