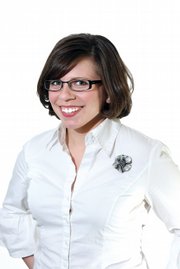 Weekend movie show times
West Theatre
29 E. Victory Way
824-2000
• "Rio," G; 7 and 9:05 p.m. Fri. and Sat., 4 and 7 p.m. Sunday
• "Beastly," PG-13; 7 and 9:05 p.m. Fri. and Sat., 4 and 7 p.m. Sunday, 7 p.m. Monday and Tuesday
• Tickets: $7 for ages 10 and older, $5 for ages 9 and younger
• Sunday matinee: $5 for ages 10 and older, $4 for ages 9 and younger
Submit your event
Submit your event's details for consideration by e-mailing me at mballeck@craigdai... or calling 875-1790.
There's plenty to keep the kiddos entertained this potentially rainy weekend, from bunnies to candy and games.
There's also some musical fun to keep parents happy.
And when all else fails, there are some good movies in town if you'd prefer to stay snuggled up.
■ Ready, set, go!
The annual candy race is scheduled for 1 p.m. Saturday at the north end of Craig City Park.
The Craig Lions Club hosts the free event for area youths younger than age 12 to dash through the lawn and find treats hidden among the blades of grass.
Get the sweet details by calling 824-3095.
■ The Easter Bunny will appear live and in person from 11 a.m. to 1 p.m. Saturday at Centennial Mall, 1111 W. Victory Way.
He (or she?) will have surprises for children younger than age 12.
Plus, don't miss the annual Celebrate Children Festival at the mall Saturday, too.
The fair runs from 10 a.m. to 2 p.m. and is focused on children ages 2 to 8. There will be booths, games, prizes and useful information. And, it's all free.
Call Carol Taylor at 824-7457 to find out more.
■ Let the hunt begin as Sandrock Ridge Care & Rehab invites children up to 12 years old to an Easter egg hunt at 2 p.m. Sunday at the facility, 943 W. Eighth Drive.
Take a basket and get ready to search outside.
Call Mary at 826-4100 to get more info.
■ Of course, Easter isn't just about candy and bunnies.
So, head on out to the church of your choice Sunday to hear the good word and celebrate.
■ Be amazed by your friends and neighbors during the annual Talent Show.
Locals take the stage at 7 p.m. Saturday at the Moffat County High School auditorium, 900 Finley Lane.

It's free, and it's pretty cool to see people you know sharing their passion.
Get more info. from Denise Hainault at 824-8326.
■ Taylors Bayou performs live from 9 p.m. to close Friday and Saturday at the Sports Page Bar at the Holiday Inn of Craig, 300 S. Colorado Highway 13.
The band plays country and Southern rock tunes, and the Sports Page let's you in cover-free. Score.
So grab some friends, a drink and a bar stool, and enjoy the show.
■ Get an early jump on garage sale season with an indoor event this weekend.
The sale benefits local woman Jane Milligan and starts at 9 a.m. both Friday and Saturday under the grandstands at the Moffat County Fairgrounds.
Find out more from John Milligan — 756-7460.
■ Catch some soccer action, if it doesn't get rained out.
The Moffat County High School girls varsity soccer team plays Palisade High School at 11 a.m. Saturday at Woodbury Sports Complex, 350 S. Mack Lane.
The junior varsity team follows at 12:30 p.m. Saturday.
■ Starting Friday, West Theatre will have "Beastly" and will hold onto "Rio."
New at Redbox this week are "The King's Speech," "Skyline," "Yogi Bear," "Luke and Lucy: The Texas Rangers" and "The Little Engine that Could."
Click here to have the print version of the Craig Daily Press delivered to your home.