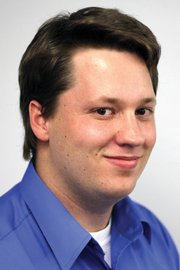 Business News Tips
The Daily Press wants to know what's happening at your business or place of
work, including promotions, new employees, transfers, awards, special deals, new products and more.
Send all your business news tips to Scott Schlaufman by e-mail at:
<
p>sschlaufman@cra...
>
Wildflowers Salon in Craig is coming up on the one-year anniversary of its opening.
The salon, located at 1596 W. Victory Way, opened May 1, 2010.
"We wanted to bring something new and fresh to Craig," said Rachel Lowe, who owns the business with Jessica Trujillo and Britney Fluty.
At Wildflowers, customers are offered things like Moroccanoil hair products, exclusive in Craig to the salon, and a Sunless Spa walk-in tanning machine.
Lowe said the salon has made positive strides in its first year and achieved goals set by the owners.
The salon has even been able to hire two employees, Lowe said.
Wildflowers Salon can be reached at 701-3007.
Event scheduled to benefit Craig shelter
If your bed needs new sheets, an upcoming event will help you fill that need while also helping Advocates-Crisis Support Services.
Private Quarters will be hosting a "Share the Comfort" event from 5 to 8 p.m. Wednesday at Taylor Street Bed & Breakfast, 403 Taylor St.
According to a news release from the company, the nationwide program donates bedding and linens to shelters for women and children.
Advocates is one of 93 shelters across the country benefiting from the program.
At the event, guests can purchase linens directly for the shelter, or if you want to purchase for yourself, Private Quarters will match a portion.
There is a 10-percent discount for anyone who donates "gently used" linens.
For more information, call Lynette Risner at Private Quarters at 307-320-8681.
New salon open in Craig
If you haven't noticed yet, there's a new salon in downtown Craig.
Mally J's Salon opened late last month at 19 W. Victory Way and offers styling, manicures, pedicures and more.
Mallory Johnston, a 2002 Moffat County High School graduate, owns and operates the salon.
The salon can be reached at 701-3019.
Click here to have the print version of the Craig Daily Press delivered to your home.