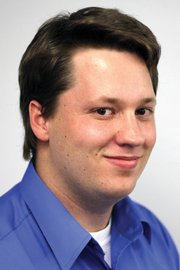 Business News Tips
The Daily Press wants to know what's happening at your business or place of
work, including promotions, new employees, transfers, awards, special deals, new products and more.
Send all your business news tips to Scott Schlaufman by e-mail at:
<
p>sschlaufman@cra...
>
State Auto Insurance recently named Joe Padon, an agent for Mountain West Insurance and Financial, a "PaceSetter" agent.
"We were very selective in choosing our PaceSetter agents who come from only our very top agencies," State Auto Chairman and CEO Robert Restrepo said in a news release. "This group is truly our 'cream of the crop' and we're proud to have members of Padon's caliber in the group, representing State Auto in Colorado."
According to the release, the company will work with its PaceSetter agents to form a "true sales alliance" and will provide assistance and feedback as necessary.
"The program was designed to make a good thing even better, and that's what we hope to accomplish during the program period," Restrepo said.
Mountain West is located at 100 E. Victory Way and can be reached at 824-8185.
Bright Beginnings coming to Craig
If you are looking for free parenting classes, the Northwest Colorado Visiting Nurse Association has just what you need with its Bright Beginnings classes, which start Wednesday.
The free classes will take place at the VNA's Community Health Center at 745 Russell St.
Class starts at 10 a.m. for parents with children 1 to 2 years old, 11 a.m. for newborns to 1-year-olds, or noon for kids between ages 2 and 3.
The classes are free and offer resources including CDs and handbooks.
For more information, call Sharon Butler at 879-7330.
Publisher named to national list
Craig Daily Press Publisher Bryce Jacobson was recently named to a distinguished list.
In the April edition of journalism magazine Editor & Publisher, Jacobson was listed as one of the newspaper industry's "25 Under 35."
The article featured editors and publishers from newspapers all over the country.
Jacobson was the only Coloradoan named to the list.
Click here to have the print version of the Craig Daily Press delivered to your home.