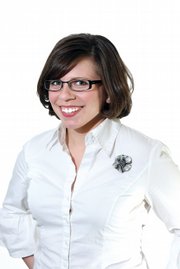 Weekend movie show times
29 E. Victory Way
824-2000
"Limitless" — Rated PG-13; 7 and 9:05 p.m. Friday and Saturday, 4 and 7 p.m. Sunday
"Hop" — Rated PG; 7 and 9:05 p.m. Friday and Saturday, 4 and 7 p.m. Sunday
Tickets: $7 for ages 10 and older, $5 for ages 9 and younger
Sunday matinee: $5 for ages 10 and older, $4 for ages 9 and younger
Submit your event
Submit your event's details for consideration by e-mailing me at mballeck@craigdai... or calling 875-1790.
It's a slow weekend in Craig, but maybe that's for the best, considering the weather is slated to be chilly and snowy and/or rainy.
It's a good time for spring cleaning, catching up or kicking back — maybe with a few of the new releases out on DVD.
• Meet the author during a meet-and-greet at Downtown Books, 543 Yampa Ave.
Demetri Glimidakis will be at the bookstore at 1 p.m. Saturday to discuss and sign copies of his new Christian fiction/fantasy book, "The Crimson Knight."
Find out more by calling Downtown Books at 824-5343 or Glimidakis at 620-3899.
• Get dolled up and celebrate the first ever Baggs Ball on Saturday.
The fun begins at 5 p.m. at the Valley Community Center, 255 W. Osborne, Baggs, Wyo.
The event, which is a fundraiser for the center, includes a steak dinner, cocktails and live music. The cost is $500 for an eight-seat table.
Get your hands on tickets by calling the center at (307) 383-2166.
• Put on your thinking cap and nominate one of your favorite educators for the 2010-11 Craig Daily Press Teacher of the Year.
The deadline to nominate is 5 p.m. April 29, but it can't hurt to get your suggestion in early.
To participate, visit www.craigdailypress.com/teacher or pick up a nomination form at the Daily Press office, 466 Yampa Ave.
Call me at (970) 875-1790 or email me at mballeck@craigdailypress.com if you've got questions.
• Pull out the camera and get Fido into a cute pose.
Entries are being accepted for the Humane Society of Moffat County's 2012 Pet Mates Calendar Contest through May 21.
Email entries to hsmc2012@yahoo.com. Just make sure they are horizontal, 200 dpi and at least 6 inches wide. Don't forget your and your pet's name, plus a phone number and email address.
Get more details from Carol Scott at 824-2103.
• And if you love pets, why not get involved?
The Humane Society of Moffat County is seeking new members and welcomes anyone interested to its next meeting at 6 p.m. Monday at the Golden Cavvy, 538 Yampa Ave.
Call Ann Anderson at 826-2717 to find out more.
• West Theatre is bringing in "Limitless" and is holding over "Hop" for a second week.
New this week at Redbox are "Tron: Legacy," "Stone," "The Girl Who Kick the Hornet's Nest" and "I Love You Phillip Morris."
Click here to have the print version of the Craig Daily Press delivered to your home.